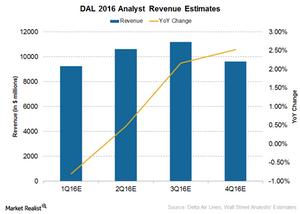 Why Analysts Reduced 2016 Revenue Estimates for Delta Air Lines
Delta Air Lines' revenue estimates
For 1Q16, analysts are estimating Delta Air Lines' (DAL) revenues to decline by ~1.5% YoY (year-over-year) to about $9.3 billion. For 2016, analysts estimate Delta Air Lines' revenue to decline slightly by 0.19% to $40.6 billion, compared to the earlier estimate of $41.3 billion—a ~1.3% increase.
Article continues below advertisement
Unit revenues
This decline in estimates is due to a higher-than-expected decline in unit revenues. Unit revenue is the revenue earned by an airline for flying one passenger for one mile. It's also known as PRASM (passenger revenue per available seat mile).
DAL's PRASM declined by 1.5% in 4Q15, which is much lower than earlier declines of ~4%–5% that the company saw in the rest of 2015. For 1Q16, this is expected to decline by 2.5%–4.5%. The average PRASM decline for the first two months of 2016 is already at nearly 4.3%. (To read our latest update, check out "How Did Delta Air Lines Fare in February 2016?")
International markets, declining utilizations, and falling fuel surcharges
One of the major reasons is that DAL earns significant revenues from international markets, and so US dollar appreciation will likely lower the value of these international revenues.
Another reason is declining utilizations. DAL's utilization declined in February 2016, after consecutive improvements since September 2015. This was despite Delta Air Lines capacity cuts in international markets, aimed at improving utilization and yields. Falling fuel surcharges have also slightly impacted unit revenues.
Passenger travel demand
Increasing passenger travel demand should help offset some of the impact from declining unit revenues. (To learn more, check out "Can the Airline Industry's Demand Remain Strong in 2016?") In the first two months of 2016, DAL's traffic grew by 7% YoY.
Meanwhile, unit revenue growth is expected to remain negative in 1H16 and turn positive in the second half of 2016. Increasing demand and unit revenues will help revenue growth.
DAL forms ~1.6% of the Industrials/Producer Durables AlphaDEX Fund (FXR). FXR also holds 1.7% in Southwest Airlines (LUV), 1.3% in Alaska Air (ALK) and 1.2% in JetBlue (JBLU).
In the next part, we'll discuss margins.