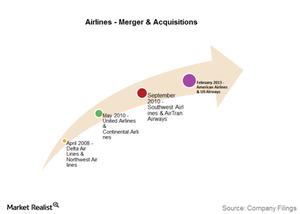 Airline Mergers and Acquisitions: Are We There Yet?
Airline mergers and acquisitions
The list of airline mergers and acquisitions is quite long, given the complexity involved in running an airline. The most recent phase of consolidation that began in 2005 has seen 13 M&As. Four of these deals are worth special mention because they changed the face of the industry.
Article continues below advertisement
Article continues below advertisement
Four notable deals
Together, these four airlines control 85% of the US air travel market. The myth that the consolidation phase of the industry was over with the AAL merger was broken with the recent Virgin America-Alaska Air Group deal. We believe that the age of mergers among the legacy carriers seems to be over, as they would not receive regulatory approval.
Possible future mergers and acquisitions
The most expected merger is between two ultra-low-cost carriers, Spirit Airlines (SAVE) and Frontier Airlines. Both airlines have many similarities, including their business models and services.
The deal between Virgin America (VA) and Alaska Air Group (ALK) made another thing clear: JetBlue (JBLU) is also open for a merger. Virgin America would have been its most ideal candidate. Since that is off the block, the next most suitable candidate seems to be Hawaiian Airlines. Similar to VA, Hawaiian Airlines has a significant West Coast presence that would nicely complement JBLU's East Coast service.
There have also been speculations about a Southwest-Frontier or a Southwest-JetBlue merger. However, Southwest Airlines (LUV) just completed its merger with AirTran and most likely would not become involved in another complex transaction so soon. Also, it would be very difficult, if not impossible, to receive regulatory approval for another Southwest merger.
Investors can gain exposure to the airline industry by investing in the SPDR S&P Transportation ETF (XTN). For regular updates on the airline industry, stay tuned to our Market Realist Airlines page.