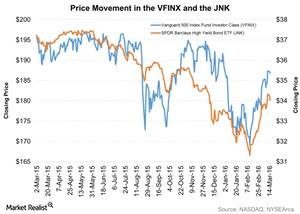 How Did Junk Bond Yields Fare ahead of the FOMC Meeting?
By Lynn Noah

Updated
US stock indexes rose
The three US equity indexes covered in this weekly series rose slightly from March 1 to March 8, 2016, as global markets were eagerly awaiting the FOMC's (Federal Open Market Committee) remarks on interest rates and the state of the US economy from the FOMC meeting, which ended on March 16, 2016. The S&P 500 index is tracked by the SPDR S&P 500 ETF (SPY), which rose 1.0% for the same period.
Article continues below advertisement
Iran gives thumbs down to oil freeze agreement
Iran is not interested in joining Saudi Arabia and non-OPEC (Organization of the Petroleum Exporting Countries) member Russia, the world's two largest oil exporters, to freeze output at January levels. Iran said it would join the output freeze after reaching production of 4 MMbpd (million barrels per day). As a result, the share prices of Kosmos Energy (KOS), Triangle Petroleum Corporation (TPLM), and Northern Oil and Gas (NOG) fell. To learn more, read Why Isn't Iran Ready to Freeze Crude Oil Production?
Oil prices fell further after OPEC said it expects global demand for its crude oil to average 31.5 MMbpd in 2016, down 90,000 bpd from last month's forecast.
Junk bonds
Junk bond yields fell 18 basis points week-over-week and ended at 8.38% on March 11, 2016. Due to a decline in yields, mutual funds and ETFs investing in junk bonds like the American Funds American High-Income Trust Class A (AHITX), the T. Rowe Price High Yield Fund Advisor Class (PAHIX), the SPDR Barclays Capital High Yield Bond ETF (JNK), and the iShares iBoxx $ High Yield Corporate Bond Fund (HYG) rose in the week ending March 11.
This series will cover developments in the primary and secondary markets for high yield debt and leveraged loans. We'll begin with developments in the high yield primary market issuance.