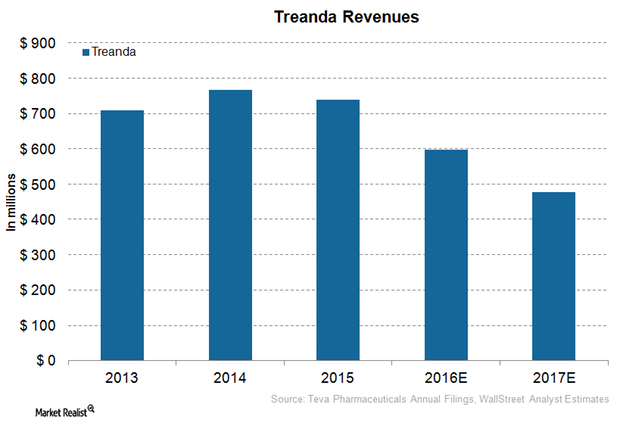 Bendeka: How Teva Plans to Safeguard Oncology Revenues
By Margaret Patrick

Apr. 1 2016, Updated 9:07 a.m. ET
Oncology revenues
In the first quarter of 2016, Teva Pharmaceutical Industries (TEVA) launched a new drug, Bendeka, in partnership with Eagle Pharmaceuticals. The new drug is expected to allow Teva to maintain its oncology revenues despite the expiration of marketing exclusivity for key oncology drug Treanda in September 2015 and the loss of pediatric exclusivity for the drug in April 2016. According to CDER (Center for Drug Evaluation and Research) Small Business and Industry Assistance (or SBIA) and the FDA, "Exclusivity is exclusive marketing rights granted by the FDA upon approval of a drug and can run concurrently with a patent or not." Exclusivity "was designed to promote a balance between new drug innovation and generic drug competition."
Article continues below advertisement
Wall Street analysts have projected that Treanda's revenues will decline by 19.2%, from $741 million in 2015 to $598.4 million in 2016. In 2015, Teva Pharmaceutical earned about 12.2% of its total revenues from the sale of oncology drugs, while Treanda accounted for about 31% of the oncology revenues. To learn more about Teva's business segments, please refer to Central Nervous System Is Key to Teva's Specialty Medicines.
Bendeka launch
Teva Pharmaceutical Industries has announced its plan to switch patients using Treanda to Bendeka. On December 8, 2015, the company announced that the FDA has approved Bendeka for patients with chronic lymphocytic leukemia as well as those with indolent B-cell non-Hodgkin lymphoma.
As Bendeka is a low-volume and short-infusion-time therapy, Teva expects that healthcare payers will prefer the drug over Treanda and its generic versions. The company expects that at least half of Treanda's patients will be shifted to Bendeka by May 2016, at which time Treanda will be losing its marketing exclusivity. With Bendeka, Teva may pose as strong competition for other oncology players such as Merck (MRK), Celgene (CELG), and AbbVie (ABBV). This will also boost the share prices of the SPDR MSCI ACWI ex-US ETF (CWI). Teva makes up about 0.33% of CWI's total portfolio holdings. In the next part of this series, we'll explore Teva Pharmaceutical's strategy for boosting revenues from its respiratory portfolio.