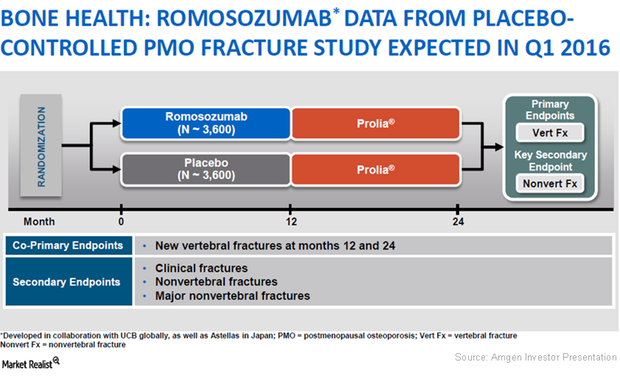 Romosozumab: Will It Benefit Amgen in the Future?
Growth opportunities
In 1Q16, Amgen expects to have data from its Phase 3 clinical trial exploring the use of innovative drug romosozumab for treating post-menopausal osteoporosis. If the data successfully demonstrate the efficacy and safety of romosozumab, Amgen believes that will be sufficient to secure FDA (U.S. Food and Drug Administration) approval for the drug.
The above diagram shows the nature of the Phase 3 study of romosozumab in which patients treated with the drug for 12 months will be compared to those treated with a placebo for 12 months. Both groups of patients will then be given Prolia therapy for 12 months. Amgen aims to check whether the incidence of new vertebral fractures at the end of 12 and 24 months declines if the patient receives romosozumab therapy. Second goals or endpoints involve reducing or avoiding clinical fractures and nonvertebral fractures.
Article continues below advertisement
Amgen is also comparing the efficacy of romosozumab to alendronate sodium, available as Merck & Co.'s (MRK) Fosamax, in another Phase 3 clinical trial. If romosozumab proves successful in establishing itself better than Fosamax, it will aid in the approval of the drug by regulatory authorities. It will also boost Amgen share prices and prices for the iShares S&P 500 Growth ETF (IVW). Amgen makes up about 0.8% of IVW's total portfolio holdings.
Dosing
Amgen believes that the 12 monthly doses of romosozumab will initially have to be administered by a healthcare provider. The company is exploring the use of a combination device product that will enable patients to opt for self-injection.
Additional indications
Amgen (AMGN) is also exploring the use of romosozumab for men with osteoporosis by measuring bone marrow density. About one in four men above the age of 50 suffer from fragility fracture, making them a major market segment for romosozumab. A strong efficacy and safety profile is expected to make romosozumab tough competition for peers such as Eli Lilly's (LLY) Forteo and Novartis's (NVS) Reclast.
In the next part of this series, we'll look in detail at Amgen's filgrastim franchise.