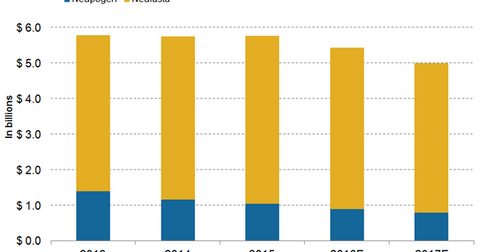 Amgen's Neupogen and Neulasta: Why Are They Losing Market Share?
By Margaret Patrick

Updated
Market share for Neupogen
Amgen's (AMGN) Neupogen currently accounts for 76% of the neutropenia market in the United States. Amgen expects that the drug will lose market share in 2016. In 2015, Neupogen lost about 3% market share in the United States due to biosimilar competition and branded competition.
Neupogen faces tough competition from Novartis's (NVS) Zarxio through its subsidiary Sandoz, from Teva Pharmaceuticals' (TEVA) Lonquex, and from Sanofi's (SNY) Leukine. Amgen has planned to defend Neupogen's sales by negotiating on an account-by-account basis with customers in the US market. Amgen also expects that sales of Neulasta, another neutropenia drug, will continue to grow modestly in 2016 due to lack of biosimilar competition. To know more about Amgen's Neupogen franchise, please refer to Amgen: Focusing on the Oncology Segment.
Article continues below advertisement
Wall Street analysts have projected that in 2016, revenues from sales of Neupogen will be about $895 million. That's a year-over-year decline of about 14.7%. As for Amgen's drug Neulasta, Wall Street analysts expect Neulasta revenues to decline by around 3.5% and reach about $4.5 billion in 2016. If these projections are true, it will also have a negative impact on the share prices of the iShares Russell 1000 ETF (IWB). Amgen accounts for about 0.5% of IWB's total portfolio holdings.
Neulasta Onpro Kit
The Neulasta Onpro Kit has managed to successfully penetrate the neutropenia market. It accounted for about 24% of Neulasta sales in 4Q15. Amgen believes that the utility of the kit will help maintain Neulasta sales.
In the final part of our series, we'll look at analysts' projections for Amgen's net profit margins in 2016.