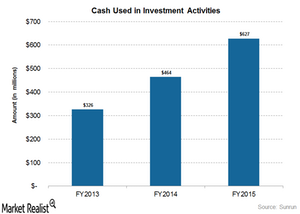 Need to Know: Sunrun's Major Acquisitions
Sunrun's initial acquisitions
Sunrun (SUN) began its journey in 2007 as a solar (TAN) financing company. Initially, the company offered to finance the installation of rooftop solar panels to homeowners for no upfront cost. It began to diversify its business with the acquisition of REC solar's residential business, AEE Solar and SnapNrack.
In February 2014, Sunrun (RUN) acquired the residential business of REC Solar, AEE Solar, and SnapNrack from Mainstream Energy Corporation for $78.8 million. This consisted of $1.8 million cash and the remaining amount in the form of common stock issuance and stock options.
REC Solar is involved in residential solar electric system design and installation business. Also, it had a local presence in all major solar markets in the United States.
Article continues below advertisement
AEE (Alternative Energy Engineering) Solar is involved in wholesale distribution of solar products. It supplies a full suite of products and services that are required to design, install, and maintain renewable energy systems. Also, AEE Solar provides hands-on product training to solar system designers and installers.
SnapNrack is engaged in the manufacturing of solar panel racking systems. It provides a full suite of solar mounting products and accessories for commercial and residential solar panel installations.
CEE acquisition
According to company filings, Sunrun acquired CEE (Clean Energy Experts) in April 2015 for $25.0 million in cash and 1.9 million shares of common stock valued at $19.1 million after deducting preexisting payables to CEE.
CEE is a lead generation company in Solar Industry. The main reason behind Sunrun's CEE acquisition was to decrease customer acquisition costs. Currently, CEE provides lead generation and management services not only to Sunrun clients but also for other companies in the residential solar industry.
Revenue generated from lead generation sales of CEE are reported under solar energy systems and product sales revenue segment of Sunrun.