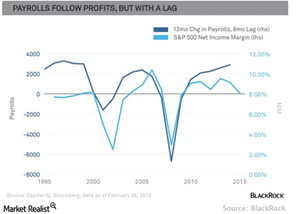 Labor Market Growth Is Unlikely to Sustain Its Recent Momentum
By Rick Rieder

Updated
BlackRock's Rick Rieder explains why he thinks job growth will slow down by the second half of the year and shares his thoughts on the broader implications for central bank policy.
The labor markets finished strong in 2015, but the growth is bound to be difficult to sustain for two key reasons: First, it's getting harder for employers to find qualified applicants, and second, economic conditions in the U.S. may have begun to moderate. Here's a look at how payrolls tend to follow company profits, but with a lag:
Article continues below advertisement
Market Realist – Uncertainty surrounds the sustainability of labor market growth
The US (IVV) (IJH) job market growth has been fairly robust over the past year, with average growth of about 235,000 jobs per month. The latest data from the Labor Department shows that non-farm payrolls increased by 242,000 in February while the unemployment rate slipped to 4.9%, the lowest since February 2008. The improvement in the number of jobs and a declining unemployment rate suggests a robust recovery in the labor market.
However, the sustainability of job market growth seems to be a daunting task, as other economic parameters are not likely to support the growth momentum. Despite the rise in jobs, average hourly earnings dropped by $0.03 to $25.24 in February 2016 over January, and it was lower than the economists' forecasts. This was due to the fact that labor supply remained at an elevated level while demand for labor is not rising fast enough to absorb the rising supply.
In addition, employers are not able to find suitable applicants due to a skills mismatch. A survey by employment firm ManpowerGroup shows that 52% of employers in the US (IWB) are finding it difficult to source suitably skilled talent to match their requirements.
The pace of recent job and wage growth indicates that the labor market remained weak despite a decline in the unemployment rate. The labor-force participation rate has not increased substantially in recent years with the improvement in the economy (IWF) (IWD), and it is still stuck near where it was at the end of 2013.
Next, we'll discuss how the moderating economic cycle could make it difficult for the Fed to increase rates.