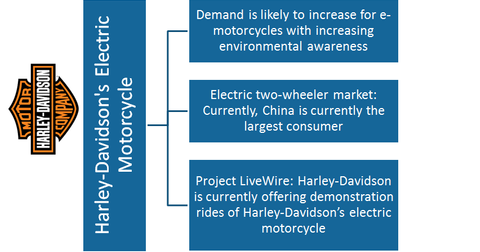 Could Harley-Davidson's Electric Motorcycle Be a Reality Soon?
By Jitendra Parashar

Updated
Electric motorcycles
Previously in this series, we discussed various categories of motorcycles that Harley-Davidson (HOG) currently offers. However, auto industry dynamics are changing at a very fast pace today.
To stay ahead of the competition, automakers (XLY) need to innovate and implement faster than their competitors. One such innovation that could soon become large in the two wheeler segment is electric motorcycles. In this article, we'll discuss the potential of the electric motorcycles segment and we'll also explore the possibility of Harley-Davidson's electric motorcycle becoming a reality.
Article continues below advertisement
Electric motorcycle market
Today's electric two-wheeler segment is almost non-existent as compared to the traditional two-wheeler segment. However, with increasing environmental awareness, consumers all over the world are becoming more cautious with vehicle purchases, which is likely to drive the demand for electric vehicles.
Also, stringent governmental regulation related to emissions and noise standards are pushing automakers to improve their environmentally friendly technology. According to a report by Navigant Research, the electric two-wheeler segment is likely to witness decent growth in coming years. The interest of large automakers including Harley-Davidson in the electric vehicle segment could ensure the supply in the market going forward. The report also suggests that in the last few years, the battery cost used in such vehicles has also dropped drastically and is expected to come down further in the coming years.
According to the Navigant Research report, China is currently the largest market for the electric two-wheeler segment while North America, Western Europe, and other countries in the Asia-Pacific region are expected to witness strong growth by 2024.
Harley-Davidson's electric motorcycle
In 2014, Harley-Davidson unveiled its Project LiveWire. Under this project, the company started offering demonstration rides of Harley-Davidson's electric motorcycle. These demonstration rides were limited to the US market in 2014. However, in 2015, the company is likely to expand offering demonstration rides in Europe and Canada as well.
This move is primarily focused on collecting the feedback of demonstration riders to better understand their need and expectations from Harley-Davidson's electric motorcycle.
Interestingly, the company has mentioned that it hasn't made any commitment to launch this electric motorcycle commercially. However, this test run certainly exhibits and boosts the possibility of Harley-Davidson's electric motorcycle becoming a reality in the coming years.
Navigant Research report also "projects that Harley-Davidson could begin selling its LiveWire concept e-motorcycle by 2018." In the auto industry, Tesla (TSLA) and Nissan have already demonstrated the potential of the electric vehicle (or EV) segment. In addition, mainstream automakers such as Ford (F) and General Motors (GM) are also working to expand their presence in the EV segment.
Continue to the next article to understand Harley-Davidson's marketing strategy.