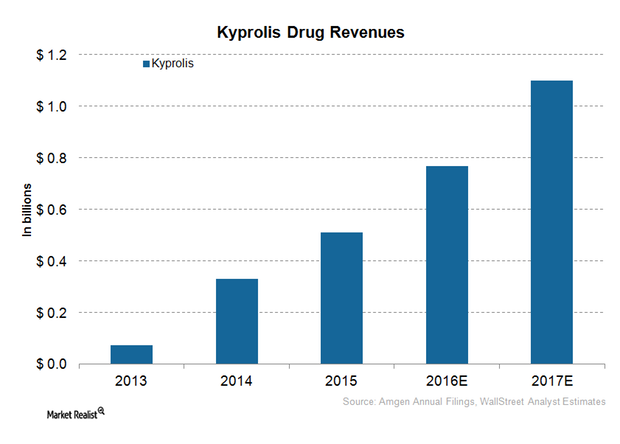 What Could Drive Amgen's Kyprolis Sales in 2016?
Growing market share
Amgen expects Kyprolis to continue capturing the global multiple myeloma (or MM) market in 2016. The drug has established itself as a backbone therapy for relapsed MM. Kyprolis is also a leading drug that can be used as a single agent or in combination with other therapies for patients suffering from relapsed MM. Kyprolis was originally used as third-line MM drug. After release of data from the pivotal Phase 3 trial, ASPIRE, Kyprolis became a leading second-line MM drug. Since July 2015, the number of new MM patients on a KRd (Kyprolis in combination with Revlimid and dexamethasone) regimen has grown more than two times. To know more about the ASPIRE data and the Kyprolis label expansion, please refer to Kyprolis Strengthens Amgen's Position in Multiple Myeloma Segment.
Article continues below advertisement
Article continues below advertisement
Wall Street analysts have projected that in 2016, revenues from sales of Kyprolis will be about $770 million, which is a year-over-year growth of 50.3%. In addition to ASPIRE data, Amgen also expects to benefit from the FDA's approval to add data from its Phase 3 head-to-head ENDEAVOR trial to the Kyprolis label. The data have demonstrated that use of Kyprolis combined with low-dose dexamethasone shows improved progression-free survival in relapsed MM patients compared to that seen by the use of Velcade combined with low-dose dexamethasone.
After Kyprolis's approval in the European market in November 2015, Amgen has been actively involved in negotiating reimbursement and launching the drug on a country-by-country basis. As the drug enters multiple markets, Amgen expects to witness strong growth in sales. This will also benefit share prices of the PowerShares QQQ ETF (QQQ). Amgen makes up about 2.1% of QQQ's total portfolio holdings.
Duration of therapy
Amgen expects to witness increasing Kyprolis sales in 2016 as the drug continues to penetrate the second-line MM market. The company also expects that the duration of Kyprolis for a patient will increase due to the drug's strong efficacy and safety profile. With Kyprolis, Amgen (AMGN) is expected to be strong competition for other MM players such as Novartis (NVS), Celgene (CELG), and Johnson & Johnson (JNJ).
In the next part of this series, we'll take a detailed look at Amgen's oncology and cardiovascular drug research programs.