Will Elagolix Make Neurocrine Biosciences a Key Women's Health Name?
If approved, Elagolix could present fierce competition for existing drugs like Teva Pharmaceuticals' (TEVA) Aygestin and Astrazeneca's (AZN) Zoladex.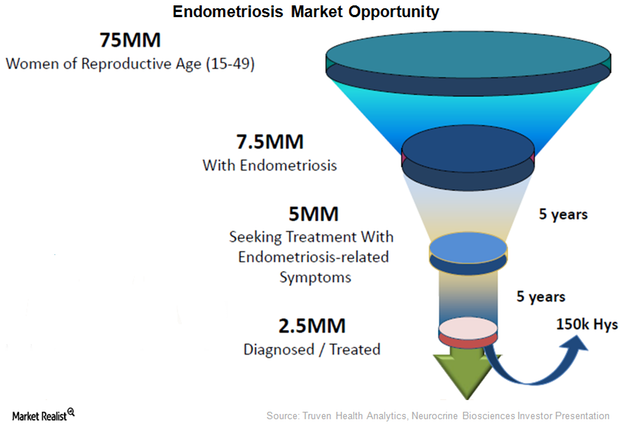 Collaboration
On February 10, 2016, AbbVie (ABBV) announced positive results from the second Phase 3 clinical trial of Elagolix, which tested the drug for managing endometriosis pain in premenopausal women. Since June 2010, AbbVie has partnered with Neurocrine Biosciences (NBIX) to co-develop Elagolix and other gonadotropin-releasing hormone (or GnRH) antagonists. As per the agreement, AbbVie is responsible for all expenses relating to developing and commercializing the drugs. AbbVie will, in return, receive a percentage of sales.
Article continues below advertisement
Article continues below advertisement
Elagolix market opportunity
The diagram above shows the scale of future growth available for Elagolix. According to the World Endometriosis Research Foundation's Facts about Endometriosis, about 176 million women in the world suffer from endometriosis. In the United States, there are 7.5 million women afflicted with this condition. Truven Analytics has estimated that about 5 million women seek therapy for endometriosis symptoms while only 2.5 million are diagnosed or treated. Plus, about 150,000 women have to opt for a hysterectomy to treat this condition.
According to WebMd, "Endometriosis is the development of uterine-lining tissue outside the uterus. Symptoms may include abdominal pain, heavy periods, and infertility. Treatment options include pain relievers, hormones, and surgery."
After receiving regulatory approval, if Elagolix manages to capitalize on this opportunity, it would boost its own share price and the SPDR S&P Biotech ETF (XBI). Neurocrine Biosciences makes up about 2.3% of XBI's total portfolio holdings.
Elagolix clinical trials
To test the Elagolix's efficacy and safety profile in managing endometriosis pain, AbbVie conducted two Phase 3 clinical trials—the Violet Petal Study and Solstice Study. Each of these trials involved more than 800 women with endometriosis pain. Both trials showed that Elagolix was effective in managing menstrual pain as well as non-menstrual pelvic pain—key symptoms of endometriosis. In the trials, Elagolix managed to reach co-primary goals or endpoints for both dosages, 150 mg once in a day and 200 mg twice daily, as well as for both three-month and six-month durations.
Plus, the trials have shown the drug's limited impact on patients' bone mineral density for the 150 mg dosage while the 200 mg dosage may cause hormone suppression and affect bone mineral density.
Based on positive results from these trials, AbbVie plans to submit its application to the FDA for the drug's approval in 2017. If approved, Elagolix could present fierce competition for existing drugs like Teva Pharmaceuticals' (TEVA) Aygestin and Astrazeneca's (AZN) Zoladex.
AbbVie is also exploring Elagolix for women with uterine fibroids.
In the next part of this series, we'll explore Neurocrine Biosciences' plan to launch Valbenazine for tardive dyskinesia.