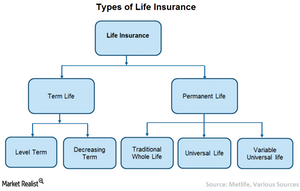 What Are the Different Types of Life Insurance Policies?
Types of insurance policies
The "Great Recession" has taught a big lesson to many Americans about the importance of financial planning. As the economy expands and more jobs are created, people have started focusing on their savings plans, retirement plans, and life insurance (IAK) (KIE).
Life insurance (PRU) (MET) policies come in various forms that cater to people in different age groups and with different financial goals. Choosing a plan that fits an individual's goals is vital to mitigating the risk that arises from the sudden death of an earning member of a family. Though all the policies provide guaranteed death benefits, the structure, duration, benefits, and costs vary across each type of policy as we'll discuss in this series.
There are two main types of life insurance policies:
These two types are further sub-divided into other types of policies as discussed below.
Article continues below advertisement
Term policies
A term policy is a simple product that provides insurance (VFH) (IYF) coverage for a specified period. If the policyholder dies during this period, the beneficiaries receive the death benefits. The premium for the policy is based on the insured person's age and health. Term policy has no investment component. There are two basic types of term life policies:
Level term: The death benefits remain the same throughout the life of the policy.
Decreasing term: The death benefits decline over the life of the policy.
Permanent policies
Permanent policies provide lifetime death benefit coverage with a cash value component. We'll discuss cash value accumulation in detail in the next article. The permanent life insurance policies are usually categorized into three types:
traditional whole life insurance
universal life insurance
variable universal life insurance