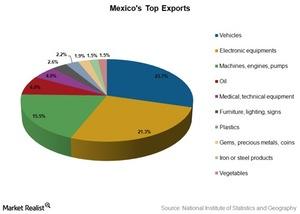 Consumerism Abroad to Drive Growth in Mexico
By Surbhi Jain

Mar. 16 2016, Published 2:59 p.m. ET
Mexico's growth drivers
Mexico is known for its industrial base. In 2015, vehicles constituted about 23.7% of Mexican exports, followed by electronic equipment at 21.3% of Mexican exports. General Motors (GM), Ford (F), and Fiat Chrysler Automobiles (FCAU) have been operating in the economy since the 1930s.
Developed markets (EFA) (VEA) such as the United States (SPY), Europe, and Canada are among Mexico's top export destinations. However, with low demand conditions persisting in most of these countries, Mexico's trade balance has taken a hit. As of January 2016, the economy had a trade deficit of $3.4 billion.
Article continues below advertisement
Consumerism abroad to benefit Mexico in-house
With fuel prices low and developed markets' central bankers busily engaged in oiling the growth engines of their respective economies through monetary policy intervention, Mexico could see better days ahead.
Consumerism is what's supposedly driving growth at current, as nothing else is. A major part of the emerging world, notably China, is shifting its growth toward a more consumer-driven model. Closer to home, we can see Brazil and Chile en route to diversifying away from commodity exports.
An increased drive toward consumerism should ideally benefit Mexico, where consumer goods such as vehicles and electronic equipment form the top exports.