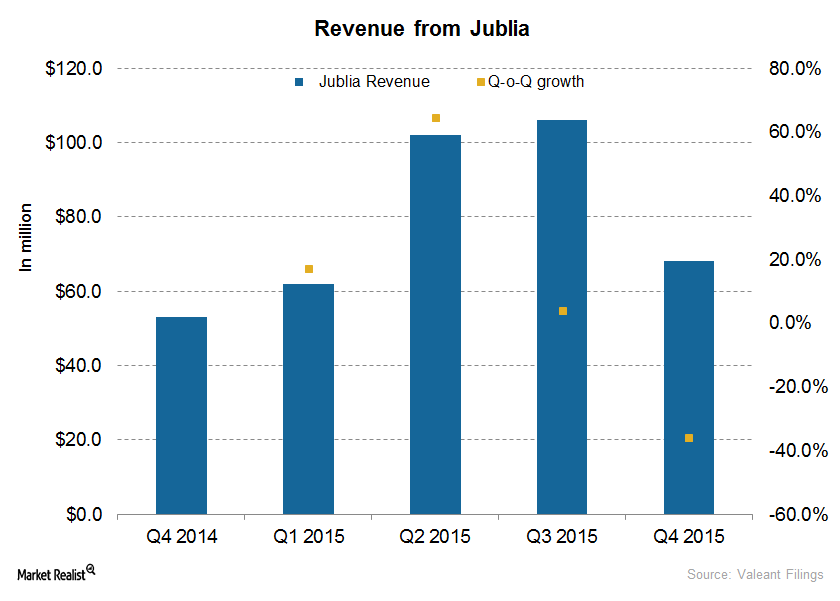 Behind Valeant's Significant Drop in Jublia Sales
Jublia, a key drug in Valeant's portfolio
In 4Q15, Jublia added $68 million to the top line of Valeant Pharmaceuticals (VRX). The drug was the sixth-largest revenue contributor in 4Q15—down from being the second-largest revenue generator in 3Q15. (For more on the drug, check out "Jublia: Valeant's Major Drug in Its Dermatology Portfolio.")
Jublia reported a ~35.8% decline in sales on a quarterly basis. The drug is a topical solution indicated for the treatment of onychomycosis, a fungal infection of the toenails. In topical solution space, the drug competes with Sanofi's (SNY) Penlac, Anacor Pharmaceuticals' (ANAC) Kerydin, and Lamisil from Novartis (NVS).
Article continues below advertisement
Article continues below advertisement
Patents for Jublia
Jublia was thought to be a major revenue driver after it crossed $1 billion in sales. Since January 2015, however, although the drug's wholesale acquisition cost price rose by 20%, Valeant experienced a mere 2% increase in the drug's average selling price.
After the steep price of the drug—$1,000 per eight-milliliter bottle—CVS Health (CVS) planned to restrict the use of the drug. This was intended to curb rising dermatology drug spending. Additionally, Jublia's patent exclusivity was set to expire in 2019. The drug has three different patents, out of which one is set to expire in 2021, and two in 2030.
What's all this mean for investors? With changing market dynamics and pricing competition, Valeant's share price may become volatile. So to avoid such risks of investing directly in equity, investors might consider options such as the Guru Index ETF (GURU), which holds ~1.4% in Valeant Pharmaceuticals.
Now let's discuss Valeant's Xifaxan.