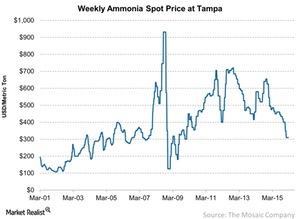 Why Ammonia Prices Will Benefit Phosphate Producers
Why ammonia prices matter
Like phosphate rock prices, ammonia prices have been moving laterally since February 2016. To produce 1 metric ton of DAP (diammonium phosphate), about 0.23 metric tons of ammonia are required. Ammonia is used along with phosphoric acid for the production of DAP and MAP. Most of the global ammonia production is upgraded to other fertilizer products like urea, UAN (urea ammonium nitrate), DAP, and MAP (monoammonium phosphate), which makes it critical to track ammonia prices.
The average price of ammonia for the week ending March 11 stood at $310 per metric ton, remaining unchanged from the previous week.
Article continues below advertisement
Natural gas prices
Natural gas prices have recovered after hitting a four-year low of $1.49 per MMBtu (British thermal units in millions) during the week ending March 4. Prices have fallen from a high of $2.53 in early January 2016. Natural gas prices rose to $1.72 for the week ending March 11.
Low natural gas prices benefit the margins of companies such as CF Industries Holdings (CF), Terra Nitrogen (TNH), and Agrium (AGU). Eventually, phosphate producers such as Mosaic (MOS) also benefit from low natural gas prices. The SPDR S&P North American Natural Resources ETF (NANR) invests about 1.6% of its portfolio in Mosaic.
Natural gas prices have hit an all-time low because of high inventory and low demand as a result of warmer weather. The EIA (U.S. Energy Information Administration) forecasts the average Henry Hub natural gas price will be about $2.25 per MMBtu in 2016. This represents a 14% drop from the average price of $2.63 per MMBtu in 2015.
For more updates on fertilizer companies, please visit Market Realist's Agricultural Fertilizers page.