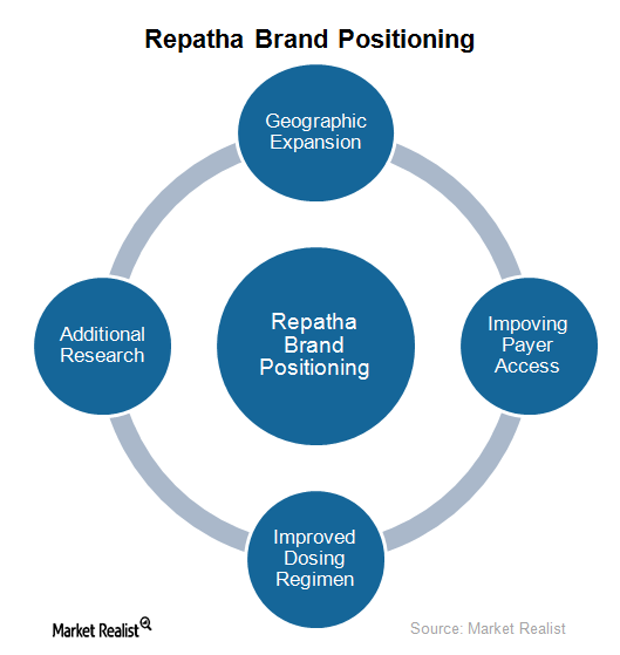 Why Did Amgen Implement Multi-Pronged Strategy for Repatha?
Repatha's brand position
Amgen (AMGN) is expecting the following to strengthen Repatha's brand position in the global cardiovascular market in 2016:
improved payer access
expanding international markets
improved dosing options
positive data from additional studies to emphasize Repatha's efficacy and safety profile
Repatha is expected to be tough competition for other dyslipidemia drugs such as Pfizer's (PFE) Lipitor, Novartis's (NVS) Lescol, and AstraZeneca's (AZN) Crestor.
Article continues below advertisement
Article continues below advertisement
Geographic expansion
Amgen is currently involved in discussions related to reimbursement of Repatha in many European countries and expects to launch the drug in those markets in 2016. Discussions related to Repatha's reimbursement turned successful in Spain in January 2016. On January 21, 2016, the drug was also approved in Japan. Amgen expects to launch this drug in the Japanese market after reimbursement discussions in 2016.
Improving payer access
A major portion of Repatha's prescriptions in the United States isn't being filled, mainly due to a complicated prior authorization process implemented by commercial healthcare payers. Currently, prior authorization requires the prescribing physician to fill out five pages of handwritten data. Most rejections for the prescriptions are thus based on improper or incomplete data filled out on the authorization document. Amgen has been trying to shift this process from paper to electronic mode.
Article continues below advertisement
To have access to Repatha, patients have to pay a substantial portion of the cost themselves or as a co-pay. Repatha has not been properly included on the formulary of the majority of health insurers. High co-pays force patients to forsake the prescription and opt for other drugs. To improve payer access, Amgen has been actively involved in spreading awareness about these problems. The company is also educating payers that Repatha users are at risk for a cardiac event, which can be avoided or mitigated due to the drug. To know more about co-pays, please refer to Making sense of health insurance companies' payment options.
Improved dosing regimen
On September 11, 2015, Amgen (AMGN) submitted an application to the FDA (U.S. Food and Drug Administration) for approval of a once-monthly dosing option for Repatha. Improved drug delivery systems and dosing options are key drivers of product differentiation and help increase brand recognition.
Additional research
Amgen expects data from the coronary imaging and cardiovascular outcomes studies for Repatha in the second half of 2016. The data are expected to strengthen Repatha's profile and help patients get easy access to the drug.
If Amgen is successful in its efforts, Repatha's total sales will increase. This will also have a positive impact on the share price of the iShares US Healthcare ETF (IYH). Amgen accounts for about 4.0% of IYH's total portfolio holdings.
In the next article, we'll take a look at Amgen's strategy for Kyprolis, its oncology drug.