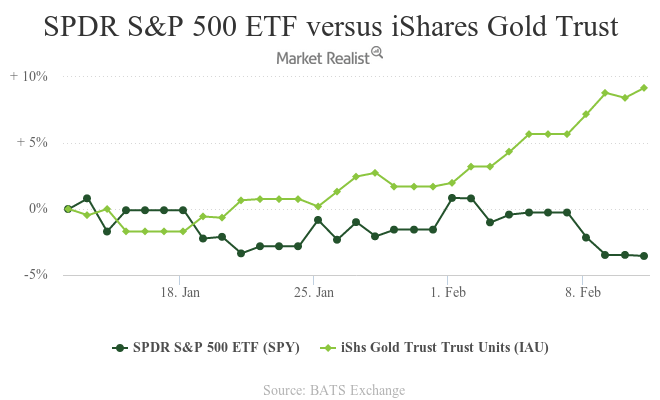 Yellen Wants to Keep Negative Rates on the Table, Helping Gold
Fed chair testifies for the second day
When the Federal Reserve chair, Janet Yellen, testified to Congress on February 11, she affirmed the Fed's consideration of negative interest rates. In the light of European, Swedish, and Japanese interest rates moving south, the chances of the US negative interest territory remains alive.
Higher interest rates curb the appeal of precious metals, which do not pay any returns. Similarly, sticky lower interest rates could cause investors to flock to precious metals. Under a negative interest rate scenario, investors would pay interest to the bank for holding their money.
[marketrealist-chart id=1050326]
Article continues below advertisement
Article continues below advertisement
Investors may be attracted to gold in this situation. Although precious metals do not pay interest, this is better than paying interest to a bank. So, the non-yield-bearing gold soared on Thursday, February 11, 2016, after Yellen presented her testimony to Congress. However, she stated that the US may not need to push short-term rates into negative territory, but that the Fed is "taking a look at" the idea.
The stock market, represented here by the SPDR S&P 500 ETF (SPY), also dropped lower on Thursday, taking its lead from the global economy fallout. Once again, this helped to boost the value demand for gold.
Miners reacted positively
This event also pushed the US dollar against the major currencies, further boosting gold prices. Among the gold-related investments, the iShares Gold Trust ETF (IAU) and the mining-based VanEck Vectors Junior Gold Miners ETF (GDXJ) gained 4.3% and 8.8%, respectively.
Among the top mining-based stocks, Newmont Mining (NEM), Barrick Gold Corp. (ABX), and GoldCorp Inc. (GG) rose by 3%, 3.4%, and 3%, respectively, on February 11. These three stocks together comprise 17.6% of the VanEck Vectors Gold Miners ETF's (GDX) portfolio.