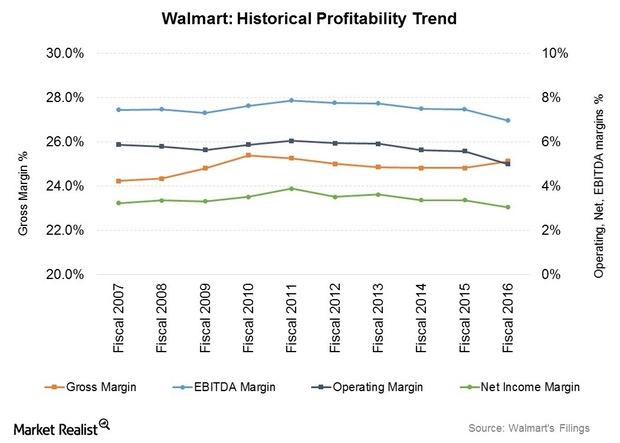 How Walmart Is Looking to Offset Future Operating Cost Headwinds
Supplier pressures
As top-line pressures have escalated over the past year, Wal-Mart Stores (WMT), or Walmart, has been increasingly focused on maintaining and enhancing margins by negotiating better terms with its suppliers. Walmart's considerable dominance of the US grocery market has given the company significant leeway to exert pressure on suppliers in order to lower costs. Walmart has already asked suppliers to spend less on advertising and displays and focus on lowering costs, according to a Business Insider report citing the Wall Street Journal.
Article continues below advertisement
Article continues below advertisement
On June 24, Reuters reported that Walmart had circulated a letter to its suppliers asking them to pay a fee to Walmart for stocking and warehousing their products. Only about 20% of Walmart's products are shipped directly from suppliers. These initiatives would help Walmart increase its store footprint, fund supply chain costs, and keep prices low. They'll also help the retailer maintain or enhance merchandise margins and offset some of the higher wage costs expected to be incurred in the future.
Cost headwinds
Wage costs are expected to continue being a headwind for the world's largest retailer. On February 20, 2016, the second round of wage increases for over 1.2 million Walmart (WMT) staff came into effect. This is expected to negatively impact fiscal 2017 earnings per share or EPS by $0.30. Other operating cost headwinds could include continued pressures on reimbursement rates and higher e-commerce investments.
China, the UK, and global supplier base
Margins may also be pressured in key international markets like China and the UK due to higher competition. So will the results of Walmart's international competitors Tesco (TSCDY) and Carrefour SA (CRRFY). But Walmart competitor Costco Wholesale Corporation (COST) hasn't yet opened a brick-and-mortar presence in China yet, perhaps because of these factors.
On the flip side, Walmart's international profitability may benefit from a more widespread implementation of its EDLC (every day low costs) policy, effectively leveraging its global supplier base.
Walmart makes up 5.9% of the portfolio holdings of the VanEck Vectors Morningstar Wide Moat ETF (MOAT) and 1.3% of the holdings of the First Trust Consumer Discretionary AlphaDEX(R) Fund (FXD).
Continue to the next part for a look at why Walmart revised its sales growth outlook for 2017.