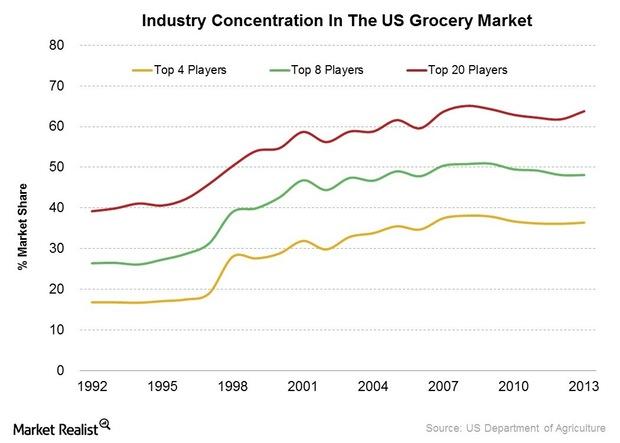 Competitive Forces: Why Walmart Dominates The Grocery Industry
Grocery market analysis
Walmart (WMT) is the world's largest retailer (XRT) (RTH). The company is a general merchandiser. Its products are varied. Walmart's products include:
groceries
entertainment
health and wellness – including pharmacy
hardlines – including stationery, auto spares, and accessories
hardware
apparel
home furnishings
household appliances
Article continues below advertisement
Industry analysis
Walmart's largest merchandising category is groceries. It accounts for 56% of sales—or $188 billion[1. Fiscal 2014 figures for Walmart US and Sam's Club segments combined; Sam's Clubs grocery figures include consumables].
According to the USDA (U.S. Department of Agriculture), Walmart was the largest seller of grocery items in the US in 2013. It was followed by Kroger (KR), Safeway (SWY), and Publix Super Markets—in that order.
The grocery industry is fragmented. It has many players. The industry also has few barriers to entry. Competition is fierce. The margins are low because firms seek to offer lower prices than other companies in the industry in a bid to spur sales.
Player concentration
As a result, scale is important. Larger players—like Walmart, Kroger, Costco (COST), and Safeway—enjoy economies in purchasing, supply chain management, and other fixed costs. They can offer lower prices than smaller companies.
Walmart's everyday low price, or EDLP, strategy stems from these economies. It also helped the retailer garner market share from other companies by strategic pricing. It has strategic pricing through programs like the Savings Catcher, Save Even More, Ad Match, and price rollbacks.
The trend of favoring larger chains over smaller players firmed over the years. In 2013, the market share for the top four players rose to 36% of industry sales—from just 16.8% in 1992. The market share for the top 20 players spiked from 39.2% to 63.8% over the same period. The USDA partially attributed the increased concentration to the growth of Walmart supercenters over the years.
Walmart and other retail companies—Costco, Safeway, and Kroger—are included in the portfolio holdings of the Consumer Staples Select Sector SPDR ETF (XLP). Together, they account for ~13.5% of the portfolio's holdings. Walmart is the third largest holding in XLP. It's weight is ~7.5%.
In the next part of this series, we'll analyze Walmart's competitive environment. We'll look at the strategies Walmart uses to deal with other companies in the industry.