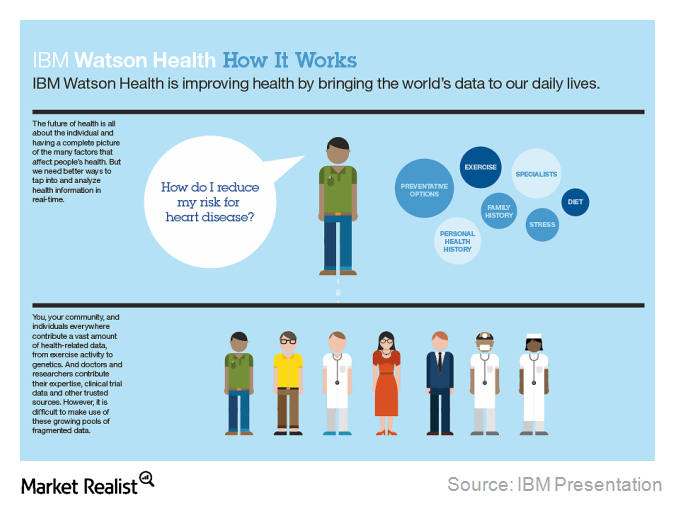 Truven: IBM's Latest Buy, Attempt to Push Watson
Truven, IBM's latest billion-dollar acquisition
On February 18, 2016, IBM (IBM) announced the acquisition of Truven Health Analytics for $2.6 billion. Truven provides cloud-based healthcare data and analytics, and IBM intends to integrate Truven's Health medical claims data and methodology with its Watson Health Cloud. With Truven under its wing, IBM's Watson will have access to more than 8,500 clients that span across US federal and state government agencies, health plans, employers, hospitals, clinicians, and life sciences companies.

Article continues below advertisement
Article continues below advertisement
Truven, the 4th acquisition intended for IBM's Watson
Truven is the fourth acquisition IBM has made in an effort to enhance the capabilities of its Watson Health Cloud. Watson Health Cloud, which launched in April 2015, is an open source platform that enables care providers and researchers to share and analyze health data. Prior to Truven, IBM acquired Merge Healthcare for $1 billion. Merge Healthcare provides the software for managing and processing medical images.
Apart from Merge Healthcare, IBM announced the acquisition of Phytel and Explorys to boost its Watson Health Unit in 2015. Phytel builds and develops cloud-based tools to augment care coordination and outcomes. Explorys, a spin-off of the Cleveland Clinic, is a cloud-based data analytics company that uses cloud computing to identify patterns and trends in treatments and diseases.
In the past, to further push the chances of its Watson's success in healthcare space, IBM announced partnerships with Apple (AAPL), Johnson & Johnson (JNJ), and Medtronic (MDT) in an effort to leverage the information gathered from personal health devices. Investors interested in gaining exposure to IBM can consider investing in the SPDR S&P 500 ETF (SPY), which has an exposure of 8.7% to application software and invests ~0.7% of its holdings in IBM.
Now let's go deeper into the details of the Truven buyout.