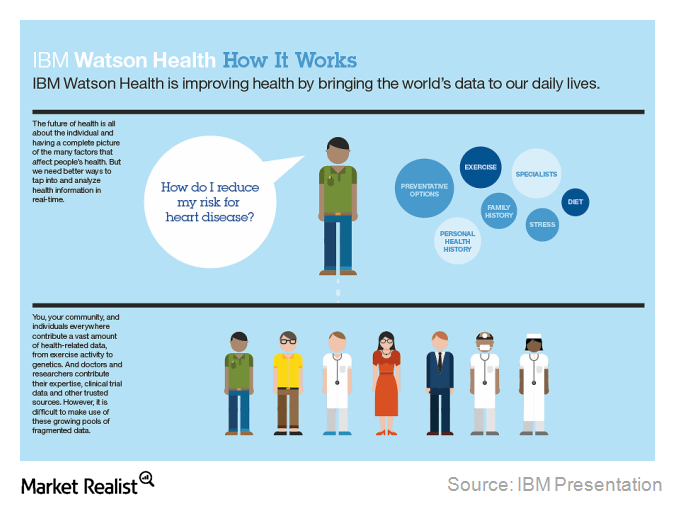 IBM Is Paving the Way for Watson Health: Acquisitions and Deals
IBM partners with leading companies
As we saw earlier in this series, IBM (IBM) completed the acquisition of Phytel on May 4, 2015. It also acquired Explorys in April 2015. These companies were acquired with the intent to bolster Watson Health and enhance its healthcare analytics abilities.
In a bid to further push the chances of Watson Health's success in healthcare space, IBM announced partnerships with Apple (AAPL), Johnson & Johnson (JNJ), and Medtronic (MDT) to leverage the information gathered from personal health devices.
Article continues below advertisement
IBM's partnership with Apple is especially appealing. Watson Health will bring cloud services and analytics to Apple's HealthKit and ResearchKit—the company's recent forays into the health space. With this partnership, users can now enter data through Apple's client-facing tools. They can store and analyze the data on the cloud through Watson's tools.
With Johnson & Johnson, IBM's focus is expected to be on creating app-based coaching systems using Watson. With Medtronic, Watson Health plans to create customized care management plans for people with diabetes.
Through these partnerships, IBM aims to develop new health-based offerings that will leverage information gathered from personal health, medical, and fitness devices. IBM invested billions in the AI (artificial intelligence) and cognitive computing space.
IBM is known for acquiring companies to expand its reach and develop its domain expertise. IBM invested $1 billion in the AI space to develop the Watson business unit. It plans to enhance R&D (research and development) in the cloud-delivered cognitive applications and services space.
To gain diversified exposure to IBM, you can invest in the Technology SPDR ETF (XLK). XLK invests 3.51% of its holdings in IBM.
For the latest updates, visit Market Realist's Tech, Media, and Telecom page.