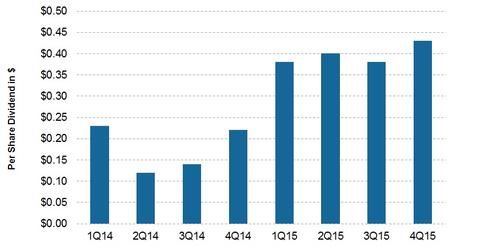 NAT's Dividends: 74 Straight Quarters of Payouts to Investors
By Sue Goodridge

Updated
Cash flow
Nordic American Tankers' (NAT) operating cash flow in 4Q15 was $57 million, compared to $49 million in the previous quarter and $24 million in 4Q14.
Article continues below advertisement
Dividends
Nordic American Tankers (NAT) claims to have a unique business model with a high dividend payout and low financial risk. The company has a long history of paying dividends, lasting 74 consecutive quarters to date. The company declared a cash dividend of $0.43 per share on January 13, 2016, which will be paid in February 2016.
The last dividend amounted to $0.38 per share. This is one of the highest quarterly dividends paid by the company. The total dividend of 2015 equaled $1.43 per share, the highest since 2010.
Future dividends
Nordic American Tankers has two newbuilds scheduled for delivery in 2016 and 2017. The company stated that it hasn't planned equity issuance to fund these newbuilds. Equity issuance reduces the per-share dividend amount. In the future, the company claims that it seeks to increase its dividend and earnings capacity through additional expansion.
Dividend yield
Nordic American Tankers' (NAT) dividend yield has ranged from 6.3%–10.36% in the past four quarters. NAT had a dividend yield of 14.17% as of February 11, 2016, one of the highest dividend yields in the industry. The dividend yields for other crude tankers are:
DHT Holdings' (DHT) dividend yield is 16.47%.
Teekay Tankers' (TNK) dividend yield is 12.37%.
Tsakos Energy Navigation's (TNP) dividend yield is 4.86%.
Investors who are interested in broad exposure to industrials can invest in the SPDR Dow Jones Industrial Average ETF (DIA).