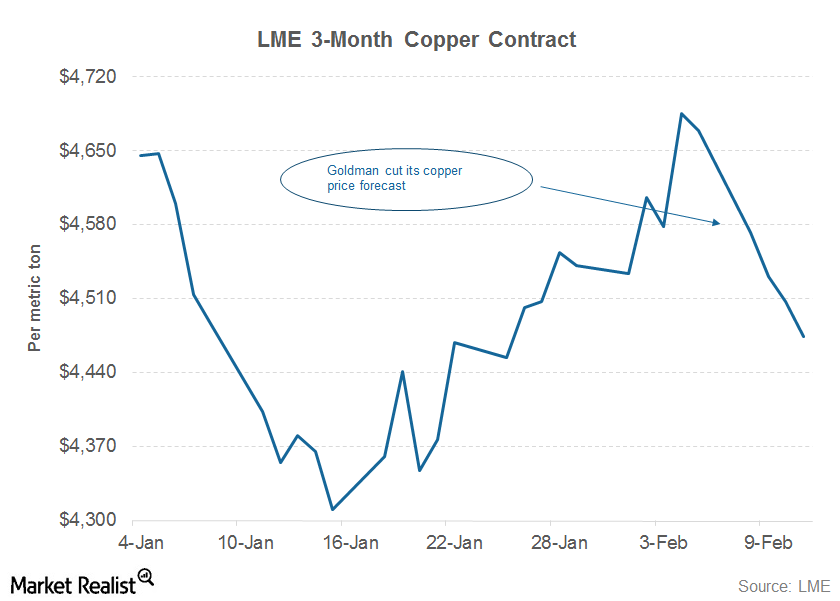 Must Know: Goldman Provided Fodder to Copper Bears
Copper bears
Copper bears have had a nice outing for the last four years. Copper has been on a downward trend after hitting $10,000 per metric ton in the beginning of 2011. LME (London Metals Exchange) copper prices have fallen every year since 2011.
Only in 2012 did they manage to hold steady, closing roughly flat as compared to the previous year. This year looks no better and copper bears are back full throttle after a brief setback that saw copper prices spike toward the end of January.
Article continues below advertisement
Goldman Sachs
Goldman Sachs (GS) now expects copper prices to fall to $4,000 per metric ton this year. In its previous guidance, Goldman had expected copper to fall to $4,500 per metric ton in 2016.
Investors should note that Goldman Sachs has been bearish on copper prices for quite some time now. Although some analysts expect copper markets to be in a deficit in 2016, Goldman is projecting a surplus between 2016–2019, according to a Bloomberg report. A surplus means that production exceeds demand.
Last year, Goldman was generally spot on regarding copper prices. For 2015, Goldman had projected that copper would fall to $4,800. Copper closed the year ~$100 below Goldman's projections.
Will Goldman be right again?
While copper producers such as Freeport-McMoRan (FCX) and Glencore (GLNCY) might not be too happy if Goldman's predictions are proven right again, one has enough reasons to be bearish on copper this year. We had also discussed the possibility of copper falling to $4,000 in An Investor's Guide to Freeport-McMoRan's 2016 Outlook.
Nonetheless, Goldman's bearish outlook for copper prices was among the key reasons driving copper below $4,500. You can see the recent movement in copper prices in the above graph.
Meanwhile, the Fed's statement on the health of the US economy was also not received well by markets, as we'll explore in the final part of this series.
Investors looking to diversify the risk of investing in a single security can also consider the SPDR S&P Global Natural Resources ETF (GNR). Almost a quarter of GNR's holdings are invested in metal companies. Together, BHP Billiton (BHP) and Rio Tinto (RIO) form 6.1% of GNR's portfolio.