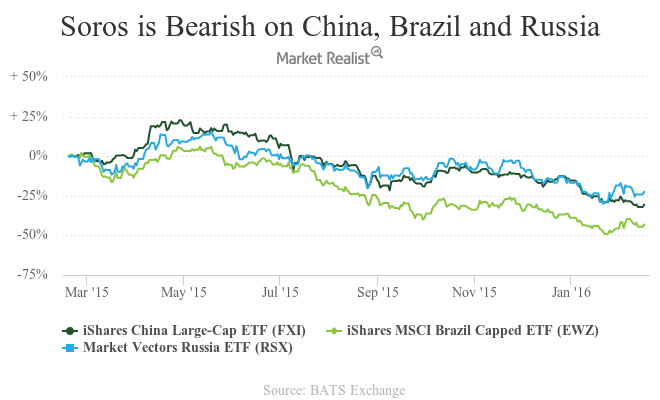 George Soros Is Shorting the S&P 500: Are You?
By Surbhi Jain

Feb. 22 2016, Updated 8:06 p.m. ET
Soros is shorting the S&P 500
Soros Fund Management's 13F filing for 4Q15 reveals that George Soros has been shorting the S&P 500 (SPXS) (VFINX). His top buys in the last quarter include puts on the PowerShares QQQ ETF (QQQ). QQQ tracks stocks in the NASDAQ-100 Index.
Puts on the S&P 500 index tracking the SPDR S&P 500 ETF (SPY) are among the top five holdings of Soros Fund Management. They constitute about 3.4% of his portfolio.
Article continues below advertisement
Bearish on China, Brazil, and Russia
Soros is definitely bearish on China. At Davos, Switzerland, Soros talked about a "hard landing" for China being practically unavoidable. The fact that the Chinese equity-tracking iShares China Large-Cap ETF (FXI) was Soros's top sell in the fourth quarter of 2015 clearly substantiates his stance on investing in China.
Soros is bearish on all Asian currencies and commodity-producing countries. These would definitely include China, Brazil, and Russia. It seems like Soros is a bear in the market for emerging market funds. Funds tracking these economies have definitely been sliding lately, and Soros chooses to remain clear of them.
[marketrealist-chart id=1060856]