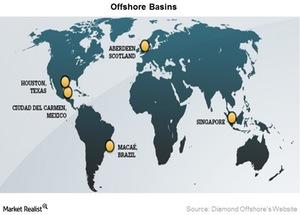 How Geography and Climate Impact Offshore Oil Rig Choices
By Sue Goodridge

Updated
Key six offshore basins
Oil deposits can be found deep under the earth either on land (onshore) or under sea beds (offshore). The majority of offshore operations around the world occur in six key locations. These locations differ widely in terms of water depths, weather conditions, and remoteness from their logistical bases. The type of rig used also differs according to the differing characteristics of these locations.
Article continues below advertisement
Offshore oil locations
The Gulf of Mexico is one of the most important regions for energy resources in the world. According to the EIA (US Energy Information Administration), offshore oil production in the Gulf region accounts for 17% of total US oil production. This is due, in part, to the fact that the Gulf represents one of the lowest-cost offshore drilling markets. The maximum number of oil rigs in the world are found in the Gulf of Mexico.
The second-largest number of rigs in the world can be found in the North Sea, from which almost 90% of the UK's oil production comes. Other key offshore oil drilling locations include the Brazilian Coast, the west coast of Africa, the Persian Gulf, and the Asia-Pacific region.
Ocean depth and climate
The choice of rig type depends heavily on water depth and climatic conditions. When water levels are up to 400 feet, jack-ups are preferred. We see the most jack-ups in the Asia-Pacific region, the Gulf of Mexico, and the Persian Gulf.
By comparison, harsher environments are characterized by frequent and severe storms, and we see such conditions in winter in the North Sea, in the North Pacific, and in Eastern Canada. In such conditions and locations, semisubmersibles are the preferred choice. But such harsh climates are rarely seen in Brazil, West Africa, and the Persian Gulf, and so standard drillships are used in addition to semisubmersibles in these locations.
Major offshore drilling companies including Diamond Offshore Drilling (DO), Noble Corporation (NE), Pacific Drilling (PACD), Seadrill (SDRL), Transocean (RIG), Rowan Companies (RDC), and Atwood Oceanics (ATW) operate in these various locations depending on the rigs they own. Investors interested in diversified exposure to upstream companies might consider the SPDR S&P Oil & Gas Exploration & Production ETF (XOP).
But what's driving all this? What about the demand side of the offshore oil drilling industry? Continue to the next part for further analysis.