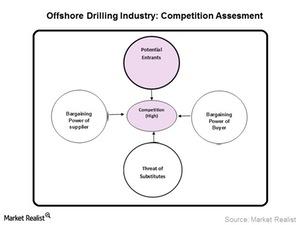 Gauging the Threat of Potential Entrants in the Offshore Drilling Industry
By Sue Goodridge

Updated
Competition among offshore drillers
It's time now to analyze the level of competition and attractiveness of the offshore drilling industry by looking at the industry from its supplier side, customer side, substitutes to the industry, and potential entrants. In this part of our series, we'll measure the practical threat of new entrants to the industry.
Article continues below advertisement
New entrants
A new entrant in an industry refers to the increased supply of products or services offered by the industry, which puts pressure on prices and costs. New entrants put a ceiling to the profit potential of existing companies in the industry, and the threat of new entrants is determined by barriers, regulatory requirements, initial investments, consumer switching costs, and economies of scale, among others.
Threat of potential entrants
Offshore oil drilling (IYE) is a highly capital-intensive industry. The price of a newbuild rig, for example, ranges from $200 million to $530 million. But a new company, when entering the market, can't compete with a single rig and needs the minimum of a couple of them in its fold. It is thus very difficult for new entrants to raise the huge amounts of capital needed to enter such a market.
Additionally, specialized workers holding licenses to work offshore are required, and it's not easy for new companies to get hold of the highly skilled workers required either. As operating rigs in deepwater involves risks oil companies generally prefer offshore drillers which are well established, having a good track record, having a sufficient experience in the industry. New entrants find it difficult to break the ice and secure contracts from E&P (exploration and production) companies.
Thus, the threat of new entrants for companies like Diamond Offshore Drilling (DO), Noble Corporation (NE), Pacific Drilling (PACD), Rowan Companies (RDC), Ocean Rig (ORIG), Seadrill (SDRL), Transocean (RIG), and Atwood Oceanics (ATW) is quite small, and this represents an advantage for all these companies.
Now let's look at the role of bargaining and buying power in the offshore drilling industry.