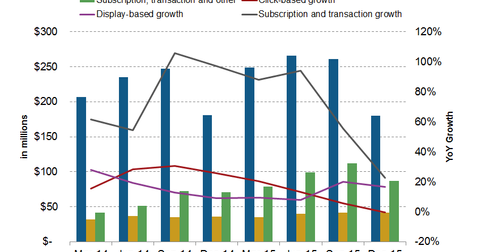 Can TripAdvisor's Revenue Continue to Grow in 2016?
By Ally Schmidt

Updated
TripAdvisor's revenues on solid ground
For the fourth quarter, TripAdvisor's revenue grew by a strong 7% YoY (year-over-year), primarily driven by non-hotel revenues. TripAdvisor generates revenues from the following three major revenue sources:
click-based advertising
display-based advertising
subscription, transactions, and other revenues
Article continues below advertisement
Revenue breakdown
Display-based advertising grew by 17% and subscription and transactions revenues saw solid 23% YoY growth. However, TRIP's major source of revenue, click-based advertising (60% of revenues), dipped marginally by one percent during 4Q15.
TRIP's Hotel segment, which contributes about 91% of total revenues, grew by 4% YoY (8% in constant currency), while the remaining segment grew by 32% YoY.
North America once again led all markets for the company, with a 12% YoY growth in revenue, followed by Asia-Pacific, with 8% growth. TRIP's Latin America and EMEA (Europe, the Middle East, and Africa) segments posted roughly flat revenues. TRIP makes up about 1.3% of the NASDAQ-100 Ex-Technology Sector Index (QQXT).
Strong dollar impact
TripAdvisor earns significant revenue from international markets. The appreciating US dollar has thus adversely impacted the company's revenue. In 4Q15, its revenue grew by 12% on a currency neutral basis. Dollar appreciation has also adversely impacted Priceline Group (PCLN), Expedia (EXPE) and Ctrip.com International (CTRP).
2015 and outlook for 2016
For 2015, TripAdvisor's revenue grew by 20% YoY in reported currency, which would equate to 27% YoY in constant currency, and suffered the negative impact of $36 million due to instant booking.
Although the company has stopped giving revenue and EBITDA (earnings before interest, taxes, depreciation, and amortization) guidance from this quarter, it has still shed light on key trends. TRIP saw a slowdown in both its click-based advertising as well as its hotel revenues during 4Q15, which it expects to continue in the first half of 2016 due to the rollout of its instant booking. These are expected to reaccelerate in 2H16, even though revenues are expected to remain muted in 2016. TRIP's revenue is expected to resume growth in  2017.
It's time now to talk about TripAdvisor's margins.