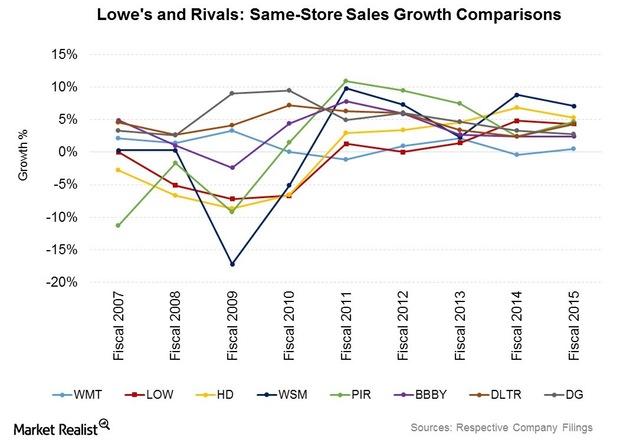 What Are Lowe's Strengths and Weaknesses?
Lowe's strengths
Lowe's (LOW) is one of the largest and oldest big box retailers around. It's been publicly listed since 1961. Lowe's is also the second-largest home improvement retailer in the world. Its size, market share, and distribution network are its key strengths. Lowe's has also been able to adapt its business to the needs of the times. Its e-commerce and customer-service initiatives have resonated well with consumers, as we discussed in parts 11-13 of this series. The company has also shown consistent same-store sales growth over the past three years as the US economy has recovered.
Article continues below advertisement
Dividend growth
Despite operating in a cyclical industry, Lowe's has also managed to raise dividends (SDY) since 1961, which speaks of the company's financial strength. Despite being larger and growing faster, rival Home Depot (HD) isn't a dividend aristocrat yet, perhaps due to its emphasis on growth.
LOW and HD together constitute 8.1% of the holdings in the Vanguard Consumer Discretionary ETF (VCR).
Business cycle performance
Lowe's operates in a highly cyclical business. Its financial performance depends on the fundamentals of the US economy, and to a lesser extent, the Canadian and Mexican economies. Personal incomes, discretionary consumer spending (FXD) (XLY) (VCR), housing market (XBH) (ITB) cycles, and interest rates are some of the macro drivers that can take a severe toll on the company's performance, or boost it.
Lowe's and Home Depot posted same-store sales declines during the Great Recession with store comps falling between fiscal 2007 to fiscal 2010. In contrast, low price operators like Dollar Tree (DLTR) and Dollar General (DG) thrived with positive comps growth over the period.
Market share
Another key weakness has been Lowe's relatively slower growth rate over the long term compared to Home Depot. Lowe's had more than a 30-year first mover advantage over rival Home Depot, which started operations in the 1970s, much later than Lowe's did. HD has subsequently taken over the number one spot in the home improvement retail industry globally.