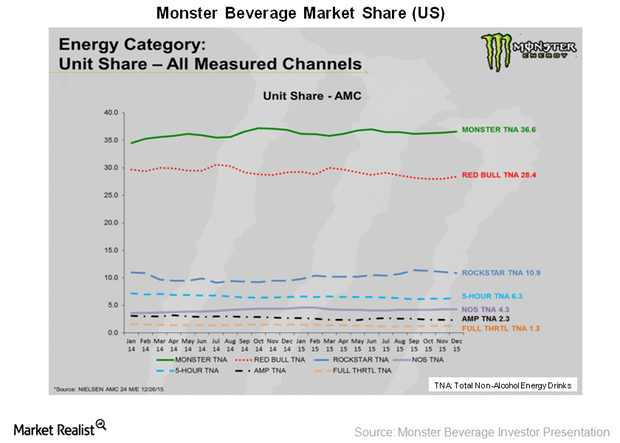 Are Strategic Brands Boosting Monster Beverage's Sales?
Market share
The investor meeting held on January 12 shed light on Monster Beverage's (MNST) leadership in the US energy drink market based on unit sales. According to Nielsen's data, for the period ending December 26, 2015, the Monster brand held a 36.6% share of the US energy drink market in terms of unit sales. Austria-based Red Bull held a 28.4% market share and was followed by Rockstar with a 10.9 % market share. In terms of dollar share in all measured channels for the period ending December 26, 2015, the Monster Beverage brand held a 35.1% share and was slightly ahead of Red Bull with a 35% share.
Article continues below advertisement
Strategic brands
Monster Beverage gained energy drink brands NOS, Full Throttle, Burn, Mother, Play, Power Play, Relentless, and Nalu under its strategic partnership with Coca-Cola (KO), which closed in June 2015. In the first nine months of fiscal 2015, these strategic brands, which constitute Monster Beverage's Concentrate segment, contributed $82.9 million in net sales and $54.4 million in operating income.
These strategic brands have further expanded Monster Beverage's energy drink portfolio. Some of these brands like NOS and Full Throttle have good market positions. As indicated in the above graph, in the period ending December 26, 2015, NOS had a 4.3% market share and Full Throttle had a 1.3% market share in the United States in terms of unit sales in all measured channels. PepsiCo's (PEP) AMP Energy brand held a 2.3% share. The Dr. Pepper Snapple Group (DPS) lacks a strong energy drink brand in its product portfolio. Monster Beverage and Dr. Pepper Snapple together constitute 0.7% of the iShares Russell Mid-Cap ETF (IWR).
Revamping efforts
At the investor meeting, Rodney C. Sacks, Monster Beverage's chairman and CEO, talked about the company's efforts to boost the sales of its strategic brands. The company has started repackaging and redesigning certain strategic brands like Burn. The company's CEO also spoke about redesigning the Relentless brand. The newly packaged Relentless brand is being rolled out in Germany and the United Kingdom, where it will be positioned against Rockstar. The Monster Beverage brand will be positioned against Red Bull in these two markets.
In certain strategic brands, the company is also working on introducing new flavors like Passion Punch for Relentless. Monster Beverage is also bringing in new package sizes, such as a 24-ounce cap can for NOS.