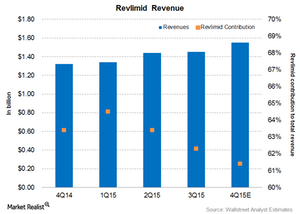 Revlimid Continues to Drive Celgene's Revenue
Revlimid
Revlimid (lenalidomide) is one of Celgene's (CELG) main revenue drivers. Lenalidomide in combination with dexamethasone is used for the treatment of multiple myeloma. It's also approved in the United States for the treatment of mantle cell lymphoma.
Revlimid recorded revenues of $1.4 billion in 3Q15, excluding the adverse impact of foreign exchange fluctuations. That's a 14% rise on a year-over-year basis. Revlimid's contribution to Celgene's total revenue was 62.3% at the end of 3Q15. Analysts expect Revlimid revenues in 4Q15 to be about $1.6 billion or 61.4% of Celgene's expected total revenue.
The above graph reflects Revlimid's revenue and its share in Celgene's total revenue.
In 3Q15, Revlimid's US market accounted for $895 million, and its international market accounted for $558 million of its total revenue. Celgene announced the full year 2015 revenue guidance for Revlimid at $5.8 billion.
Article continues below advertisement
In the United States, Revlimid's share of treating the new patient first line is now over 60%. In Europe, Revlimid currently accounts for 20% of the first-line multiple myeloma therapy market in Germany. Celgene has received reimbursement approval in Spain. Celgene expects to launch Revlimid in three additional major markets in Europe before 2Q16.
Revlimid patent litigation is settled
Celgene has settled litigation with Natco Pharma India and its partner Allergan (AGN) related to Revlimid (lenalidomide) patents. On August 30, 2010, Natco filed an ANDA (Abbreviated New Drug Application) with the FDA (U.S. Food and Drug Administration) for its own version of Revlimid. On October 8, 2010, Celgene filed a lawsuit against Natco for patent infringement.
As part of the settlement, Celgene has agreed to provide Natco with a license to manufacture and sell an unlimited quantity of generic lenalidomide in the United States beginning January 31, 2026. Natco will also receive a volume-limited license to sell generic lenalidomide in the United States beginning in March 2022.
The SPDR S&P Biotech ETF (XBI) has a weight of 1.9% in Celgene. The other top holdings of the fund include Amgen (AMGN) and AbbVie (ABBV), with weights of 2% and 2.1%, respectively.