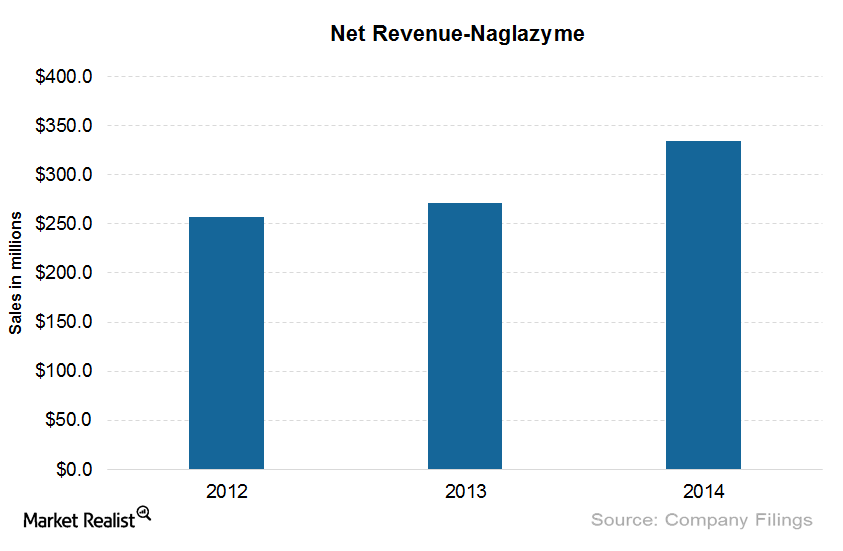 Naglazyme: One of the Costliest Drugs in the United States
Naglazyme: BioMarin's drug for mucopolysaccharidosis VI
Naglazyme (or galsulfase) is an orphan—rare—drug that received marketing approval from the FDA in 2005 for the treatment of mucopolysaccharidosis I or MPS I. In 2006, it received approval for sale in Europe, followed by subsequent approval in other countries.
The graph above presents the net sales revenue for Naglazyme. For 2015, BioMarin (BMRN) lowered the guidance for annual revenue of Naglazyme to $300 million–$310 million. Foreign exchange effects and the net of hedging would lower the revenue by $20–$25 million. The order size of the drug is impacted by large uneven orders from Latin America. However, new patients are driving the demand for the drug.
Article continues below advertisement
Pricing for Naglazyme
The wholesale cost per patient for Naglazyme is ~$485,747 per year. The drug has been effective in improving walking and stair-climbing capacity. Though the drug has been on the market for almost one decade, it doesn't have any competition in the enzyme replacement therapy (or ERT) segment. ERT has some limitations such as limited efficacy in some tissue types, weekly intravenous infusion, and higher cost. Companies such as Bluebird bio (BLUE), Alexion Pharmaceuticals (ALXN), and Shire (SHPG) are conducting research on emerging therapies for the orphan disease.
Overview of Maroteaux-Lamy syndrome
Mucopolysaccharidosis VI (or MPS VI) is also known as Maroteaux-Lamy syndrome. As per the National MPS Society, MPS VI affects about 1 in every 215,000 births. Individuals affected by the disease show symptoms such as short stature, coarse facial features, breathing problems, stiff joints, a large tongue, and difficulty in walking. Other common symptoms include heart valve abnormalities, hepatomegaly, splenomegaly, as well as umbilical and inguinal hernia.
The disease is caused by deficient enzyme N-acetylgalactosamine 4-sulfatase. Life expectancy varies depending on the severity of symptoms. If the disease is in a milder form, the patient may experience prolonged survival although life expectancy may be reduced. Cardiovascular and respiratory complications result in death.
To avoid direct risk exposure, investors can opt for the PowerShares DWA Healthcare Momentum Portfolio (PTH) that holds 2.8% of its total holdings in BioMarin stock.