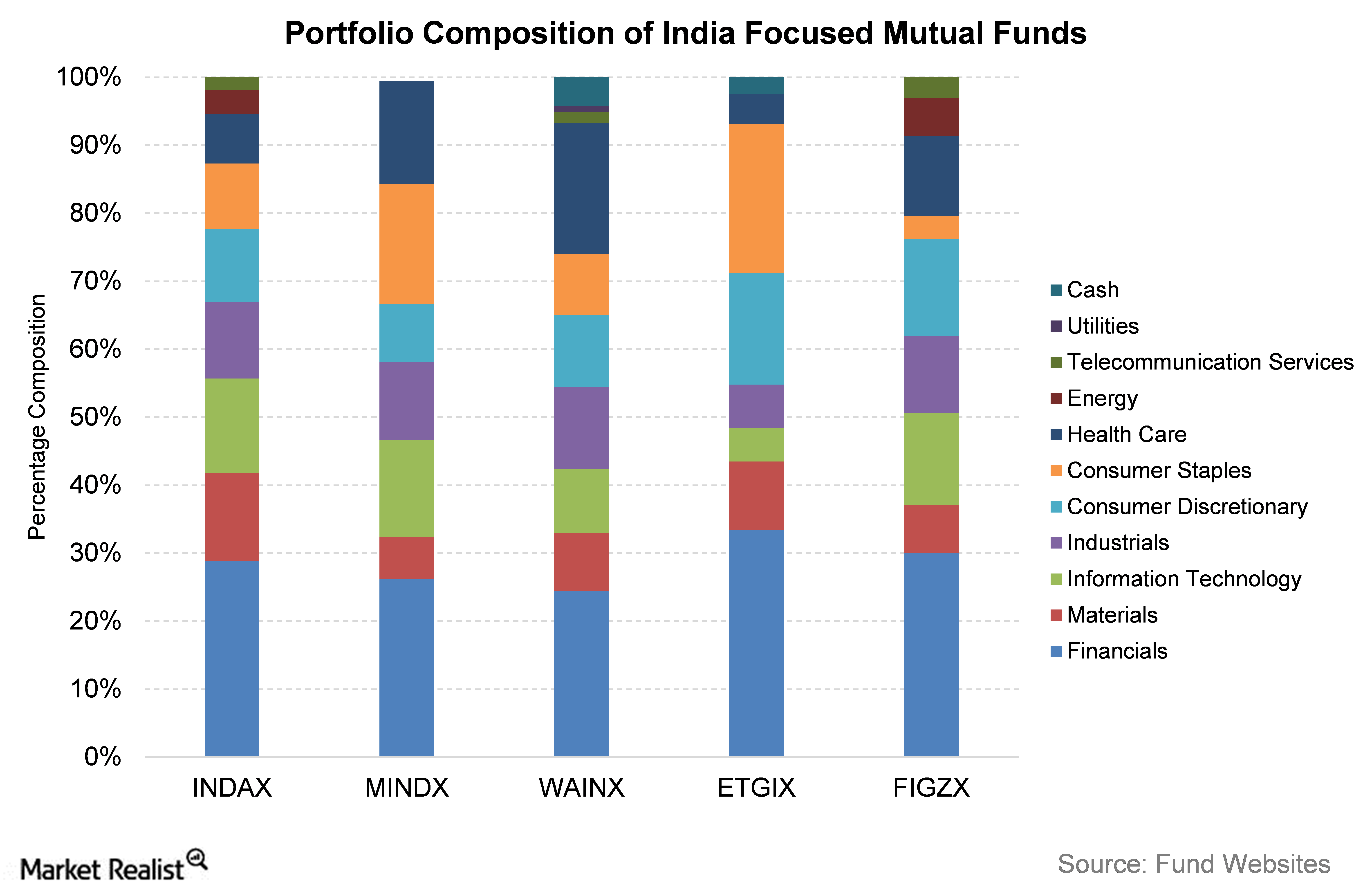 Looking ahead for Indian-Focused Funds
A resilient Indian market and an optimistic economy
In the previous articles of this series, we reviewed the performance and portfolio details of the five India-focused funds. We also performed a comparative analysis of their performances in Part 13 of the series.
In this article, we will compare the portfolios of the funds and what to expect in the near future. The chart below compares the portfolio of the five India-focused funds.
From the chart above, we can see that all five funds have their highest individual sectoral exposure to financials. Compared to the other four funds, the exposure to financials is lower in the Wasatch Emerging India Fund (WAINX). It is noteworthy that among the five funds in discussion, WAINX was the only fund to give a positive return in 2015. As compared to the others, WAINX has a higher exposure to healthcare. ETGIX was the worst-performing of the funds in 2015.
Comparing the asset size, MINDX is the largest fund. As of December 31, 2015, MINDX had $1.5 billion asset under management. INDAX is the smallest fund with as asset size of $15.9 million.
Article continues below advertisement
The prospects
As reported in the news, 2015 has been a year of global economic stress. An emerging economy like India was adversely affected due to weakened global demand, falling commodity prices, and the weakening of the Indian currency against the dollar. Given the challenges, we can say that India has been able to weather the storm of the global economic slowdown.
In the second quarter (July–September) of fiscal 2016, India reported its GDP growth rate at 7.4%. The Indian fiscal year begins in April and ends in March of the following year.
The Indian equity market witnessed a stronger faith of investors in December 2015. The market showed volatility in anticipation of a rate hike by the US Federal Reserve, and it bounced back strongly after the December rate hike. The foreign portfolio investment, which was on a losing spree before December 16, came back strongly.
Healthcare (RDY), information technology (INFY) (WIT), and consumer discretionary were among the top three sectors in 2015. Given the continued global volatility, a defensive stock like healthcare can be a safe option. Also, the small-cap and mid-cap companies outperformed large caps in 2014 and continued the trend in 2015 as well. Investors may benefit from tracking funds that have higher exposure to smaller companies with good performance.
For more details on mutual funds, please visit the Mutual Funds page.