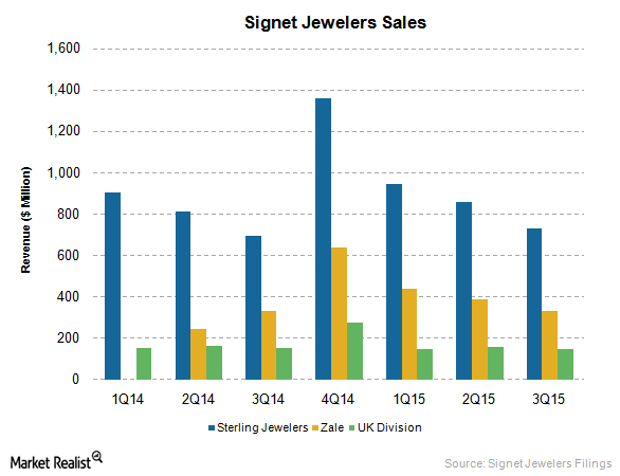 It Was a Festive Holiday Season for Signet Jewelers
Signet's holiday season sales
On January 7, 2016, Signet Jewelers (SIG), the world's largest retailer of diamond jewelry, announced its broad-based success in the holiday season. For the eight weeks of the holiday season that ended December 26, 2015, Signet reported revenue of $1.9 billion. That was an increase of 5% over the prior year's holiday season. On a constant-currency basis, sales increased 6.3%.
Let's look now at the divisions of Signet Jewelers.
Article continues below advertisement
Article continues below advertisement
Sterling Jewelers, which operates in the United States, accounted for 61.4% of Signet's total holiday sales. Sterling Jewelers sales increased 7.2% compared to the prior year, driven by the Kay and Jared brands.
The Zale division accounted for 27.4% of Signet's total holiday sales. Zale reported an increase of 2.3% in holiday season sales, mainly driven by Piercing Pagoda. On a constant-currency basis, Zale's sales improved by 5%.
The UK division represented 11.1% of Signet's holiday sales. The division's holiday sales were almost flat compared to the prior year. On a constant-currency basis, sales increased 4.9%.
What impacted the revenue?
Strategic initiatives taken by the company included superior customer service, exciting new product launches, continued success of existing collections, and improved advertising trade.
Signet's strategic objective to be the best in bridal ended up in a strong performance during the holiday season throughout all selling channels and geographic regions.
Diamond earrings continued to drive sales.
A number of fashion diamond collections performed well. Fashion collections, especially jewelry for the wrist such as bracelets, charms, and watches, saw strong growth.
For Zale, initiatives such as employee training and newly designed kiosks helped generate strong results at Piercing Pagoda, where sales increased 9% over the previous year.
Store operation improvements, exclusive merchandise programs, and new marketing initiatives helped Jared improve its sales by 6.8% in the holiday season.
Peer group comparison
In 3Q15, Signet's peers in the jewelry industry included Tiffany (TIF) and Fossil Group (FOSL), whose sales fell 4% and 5%, respectively, due to the strong US dollar. In comparison, Signet's sales increased by 3.3% in 3Q15, which ended October 31, 2015. For Tiffany and Fossil, 3Q15 ended on October 31, 2015, and October 3, 2015, respectively.
Signet is a component of the S&P 500 Index (SPY) and part of the SPDR S&P Retail ETF (XRT). It has a weight of ~1% in XRT. Specialty retail companies make up 19.4% of XRT's portfolio.
To know more about Signet Jewelers, you can read the Market Realist series An Investor's Guide to Signet Jewelers, a Jewelry Giant.