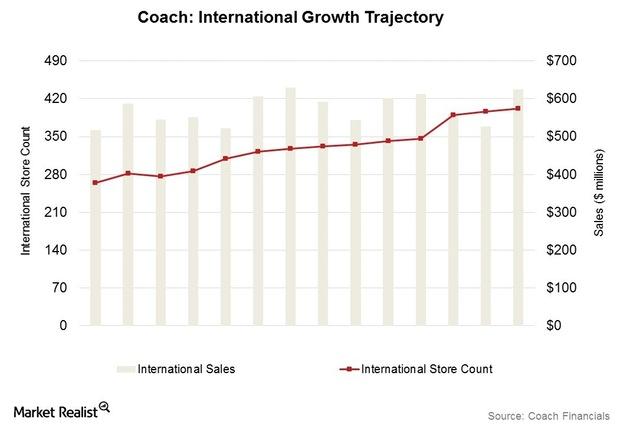 Coach's Overseas Sales: What Do They Mean for Luxury Brands?
Coach reports sales growth of 9% in international operations
Coach (COH) reported relatively upbeat numbers in its overseas operations, which are those outside of North America. International sales for the brand saw a 3.9% uptick in fiscal 2Q16, rising to $437 million. As explained in part two, foreign exchange movements resulting from a higher US dollar impacted Coach's sales. The company derived 34.6% of its sales from outside North America. International sales growth, excluding the impact of currency movements, came in higher, at 9% for the quarter.
Article continues below advertisement
Article continues below advertisement
European performance
The strongest performance for the brand was seen in Europe, where sales rose by double digits in reported terms, with net store count rising by four over the count from 2Q15. Same-store sales were also up at a double-digit rate in Europe (EFA) (EFAV). The company opened its new flagship store in Paris in the quarter and has plans to open more flagship locations in prominent cities in Europe and other regions in premium locations. Results for European luxury brands such as LVMH Moët Hennessy Louis Vuitton (LVMUY) and Kering (PPRUY) (PPRUF) have also shown traction in Europe lately.
Ralph Lauren's (RL) wholesale performance in Europe took a $13 million hit in fiscal 2Q16 due to the higher US dollar. The company, however, increased its Europe sales by 12.3% in constant-currency terms.
Performance in Japan
Sales in Japan also increased by 2% in constant-currency terms, but fell by 3% in reported terms as a result of the depreciation of the yen versus the US dollar. The company also closed two underperforming stores in Japan in the quarter, which affected results. Results were in line with company expectations, however.
Outlook
Sales trends for luxury brands may continue to grow in Europe due to monetary expansion and the weak euro. This will likely negatively affect tourism spending in the United States, particularly in the wholesale channels. Several luxury brands, including Coach (COH) and Michael Kors (KORS), are stepping up on expansion plans in Europe, particularly with regard to flagship stores in prominent retail locations. The next article discusses Coach's performance in China.