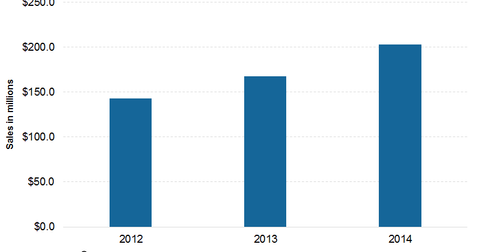 What Are BioMarin's Products for Treating Phenylketonuria?
By Jillian Dabney

Updated
Is the generic Version of Kuvan on its way?
Kuvan, with the active ingredient sapropterin dihydrochloride, is effective in reducing blood phenylalanine levels in PKU (or phenylketonuria) patients. However, the patients must follow a phenylalanine-restricted diet along with the medication. During September 2015, BioMarin (BMRN) announced a patent settlement deal with Dr. Reddy's Laboratories (RDY).
As per the settlement, "BioMarin would allow Dr. Reddy's to market the generic version of Kuvan in the US at some future date which is more than five years from today or earlier under certain circumstances."
The above graph shows annual revenue from the sale of Kuvan. Following awareness of the benefits of Kuvan, there is more demand for the drug. As a result, the company has anticipated higher revenue from the sale of Kuvan. For 2015, Kuvan might fetch around $ 235 million–$245 million to the company.
Article continues below advertisement
Kuvan and phenylketonuria
As per the European Medical Agency, "Kuvan is used to treat high blood levels of phenylalanine in adults and children of all ages with the genetic disorders phenylketonuria or PKU, or tetrahydrobiopterin or BH4 deficiency. The disease is caused by the deficiency of the enzyme phenylalanine hydroxylase or PAH. These patients cannot process the amino acid phenylalanine from dietary protein. Thus, the amino acid builds up in the blood to abnormally high levels, causing problems in the nervous system."
In 2007, Kuvan received marketing approval from the FDA. The following year it received approval for sale in the European Union. The company markets the drug in the United States and Canada. A third party manufactures powder sachets and tablets for Kuvan on a contract basis.
A market opportunity for Kuvan and Pegvaliase?
BioMarin anticipates launching another drug, Pegvaliase, for PKU during 2016. It expects phase 3 data for Pegvaliase during March or April 2016. Following the phase 3 data, the company anticipates filing a BLA (biologics license application) during the second half of 2016. There are ~50,000 patients suffering from PKU in the developed world. In the United States, PKU affects ~1 in 10,000–15,000 births.
Article continues below advertisement
BioMarin has acquired all the global rights to Kuvan and Pegvaliase, excluding Kuvan rights in Japan. Kuvan is indicated for all age groups whereas Pegvaliase is targeted for patients over 16 years with elevated Phe (Phenylalanine) levels. Kuvan's global sales coupled with Pegvaliase present an opportunity of ~$1 billion to BioMarin.
Overview of Phenylketonuria
A mutation in the PAH (phenylalanine hydroxylase) gene causes PKU. PKU is a genetic condition where the body can't process Phe. Phe is an amino acid found in various foods. This leads to increased Phe levels in the blood. If this remains untreated, the high levels may cause thinking impairment coupled with behavioral and intellectual problems. The disease requires lifelong management. Adults may show symptoms such as a headache, forgetfulness, fatigue, trouble focusing, depression, anxiety, irritability, isolation, and feeling "foggy."
Companies such as Alexion Pharmaceuticals (ALXN) and Regeneron Pharmaceuticals (REGN) are conducting research activities for orphan drugs.
To avoid direct risk exposure, investors can look at the Vanguard Extended Market ETF (VXF) as it holds 0.44% of its total holdings in BioMarin stock.