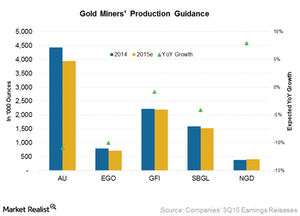 Decelerating Production Growth for Some Intermediate Gold Miners
Growth in gold production
The growth in gold production is an important metric for gold miners (GDX). In a lower gold price (GLD) (IAU) environment, the miners try to optimize production volumes to offset the fall in prices.
New Gold (NGD) produced 123,000 ounces in 3Q15. This is a solid 32% growth year-over-year (or YoY). The company has made several investments during the period, leading to higher recovered ounces. It has guided for a production toward the higher end of the guidance range of 390,000–410,000 ounces for 2015. This will be an increment of 8% YoY.
Due to its continued strong results in 2015, Eldorado Gold (EGO) raised its production guidance for 2015 by 3% to 710,000 ounces.
Article continues below advertisement
Deceleration in production growth
AngloGold Ashanti (AU) produced 11% fewer ounces in 3Q15 as compared to 3Q14. The same trend is expected to continue for all of 2015. Most of the fall is due to the sale of the Cripple Creek & Victor mine to Newmont Mining (NEM) and lost ounces from Obuasi, the being in limited operations right now. AngloGold's South African operations continued to face safety issues and resultant stoppages.
Sibanye Gold's (SBGL) production record has been strong. However, 2015 hasn't been particularly good for the company. One of its mines, Kloof, suffered two fires and other disruptions related to wage negotiations impacted production. While Sibanye's 3Q15 production was strong as compared to the previous two quarters, it has downgraded its production guidance by ~7% to 1.5 million ounces for 2015.
Gold Fields' (GFI) production profile is more or less flat as compared to the prior year. It has reaffirmed its production guidance of 2.2 million ounces for 2015. This is in line with the production for 2014. The lower gold production from its South Deep mine in South Africa is expected to be offset by better performance at its Granny Smith, Tarkwa, and Cerro Corona mines.
Overall, New Gold and Eldorado Gold have strong production growth in the short term. Sibanye makes up 2.2% of GDX's holdings.
In the next part of this series, we'll look at the gold miners that can replace their reserves and further raise their production in the long term.