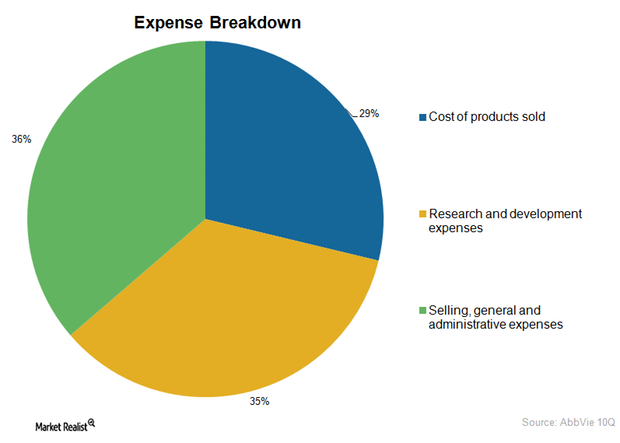 AbbVie's Net Profit Margin Expected to Reach 29.8% in 4Q15
Profit margin expansion
AbbVie (ABBV) has continued to improve its operational efficiency, which is expected to result in a net profit margin of 29.8%, a year-over-year increase of 6.3%. In 3Q15, AbbVie realized a net proft margin of 30.4%.
The sequential decline in AbbVie's projected margin can be attributed to the expenses related to the company's aggressive expansion strategy in international markets, as well as the legal and other efforts invested by the company to safeguard its Humira franchise from biosimilar competition.
Article continues below advertisement
In 3Q15, selling, general, and administrative expenses as well as research and development (or R&D) expenses accounted for a major part of AbbVie's operating expenses. However, AbbVie expects to control its overall expenses and has set a target of achieving an operating margin exceeding 50% by 2020. This implies that the margin has to improve by 1%–2% every year from 2015 to 2020.
This is expected to directly result in improvement in net profit margins in the coming quarters. Peers Amgen (AMGN), Biogen (BIIB), and Celgene (CELG) are also actively involved in reducing their operating expenses to improve their profitability margins.
Operating margin expansion
AbbVie has initiated several efficiency programs that aim to optimize the company's costs related to manufacturing, infrastructure, and administrative expenses as well as productivity initiatives to improve the supply chain process. The company has also projected a reduction in royalty expenses related to Humira in 2017 and 2018, as the drug loses its US patent on December 31, 2016. Additionally, the company's increasing revenues are also expected to further boost its profitability margins.
Instead of directly investing in AbbVie and being exposed to company-specific risks, you can invest in the company through the iShares US Healthcare ETF (IYH). AbbVie accounts for about 3.2% of IYH's total holdings.