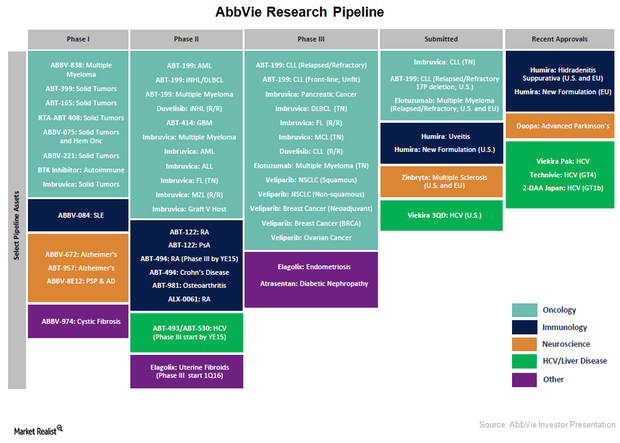 AbbVie's Late-Stage Research Pipeline Could Boost Future Revenues
Research pipeline
AbbVie (ABBV) has a robust research and development (or R&D) pipeline, with a potential to deliver $30 billion in revenues by 2024. The company also expects that it will have more than 20 new drugs or indications approved by 2020. In 3Q15, AbbVie had more than ten products or indications in regulatory review or the pivotal development phase.
Article continues below advertisement
Recent approvals
In 3Q15, AbbVie has continued to explore its immunology drug, Humira, across multiple new indications and formulations. The company has maintained its leadership position in the immunology market, despite strong competition from other immunology players such as Johnson & Johnson (JNJ), Amgen (AMGN), and Roche (RHHBY).
Humira is the first and only therapy for hidradenitis suppurative (or HS). It was approved by the US Food and Drug Administration on September 11, 2015, and by the European Medicines Agency (or EMA) on July 30, 2015. AbbVie also developed a new Humira formulation that aims to reduce pain on injection and the injection volume required by the existing formulation, which has been approved by the EMA.
AbbVie has also strengthened its position in the neurology segment with the FDA approval of duopa for the treatment of motor fluctuations in people with advanced Parkinson's disease.
In 3Q15, in addition to Viekira Pak, AbbVie added new drugs in its hepatitis C (or HCV) franchise. On July 24, 2015, the FDA approved Technivie (ombitasvir, paritaprevir, and ritonavir) in combination with ribavirin for genotype 4 HCV patients who did not have scarring and poor liver function or cirrhosis. AbbVie has also received approval for its two-drug, once-daily, ribavirin-free combination for treating genotype 1b HCV patients in Japan.
Article continues below advertisement
Submitted approvals
AbbVie also has several indications in the regulatory approval process. The new Humira formulation is currently being reviewed by the FDA. AbbVie has also submitted an application both in the US and Europe for Humira as a therapy for uveitis.
In neurology, Zinbryta, developed jointly by AbbVie and Biogen, is currently under regulatory review for relapsing remitting multiple sclerosis (or RRMS), and a decision is expected in 1H16. Based on the pivotal data obtained from the Phase 3 study, DECIDE, Zinbryta has demonstrated substantial benefit as compared to other active RRMS therapy, interferon beta-1a 30 mcg intramuscular injection.
AbbVie continues to expand its product line in the $100 billion oncology market. Imbruvica is currently under review for approval as a front-line therapy for chronic lymphocytic leukemia (or CLL). This application is supported by data announced in June 2015, from the Phase 3 resonant two trial, which compared Imbruvica with chlorambucil. Imbruvica demonstrated a significant improvement in survival without further progression of CLL, as well as overall survival. It also achieved other secondary endpoints when used as front-line CLL therapy.
The company has also submitted an application for Venetoclax, also called ABT-199, as a therapy for relapsed or refractory CLL patients with 17p deletion. The first registrational study for the drug has managed to reach its primary endpoints.
In partnership with Bristol-Myers Squibb, AbbVie is currently exploring elotuzumab to treat relapsed refractory multiple myeloma. Currently under regulatory review process in the US, the drug also received a breakthrough therapy designation from the FDA on May 19, 2014.
For diversified exposure to AbbVie, you can consider the Vanguard Growth ETF (VUG). AbbVie accounts for about 1.0% of VUG's total holdings.