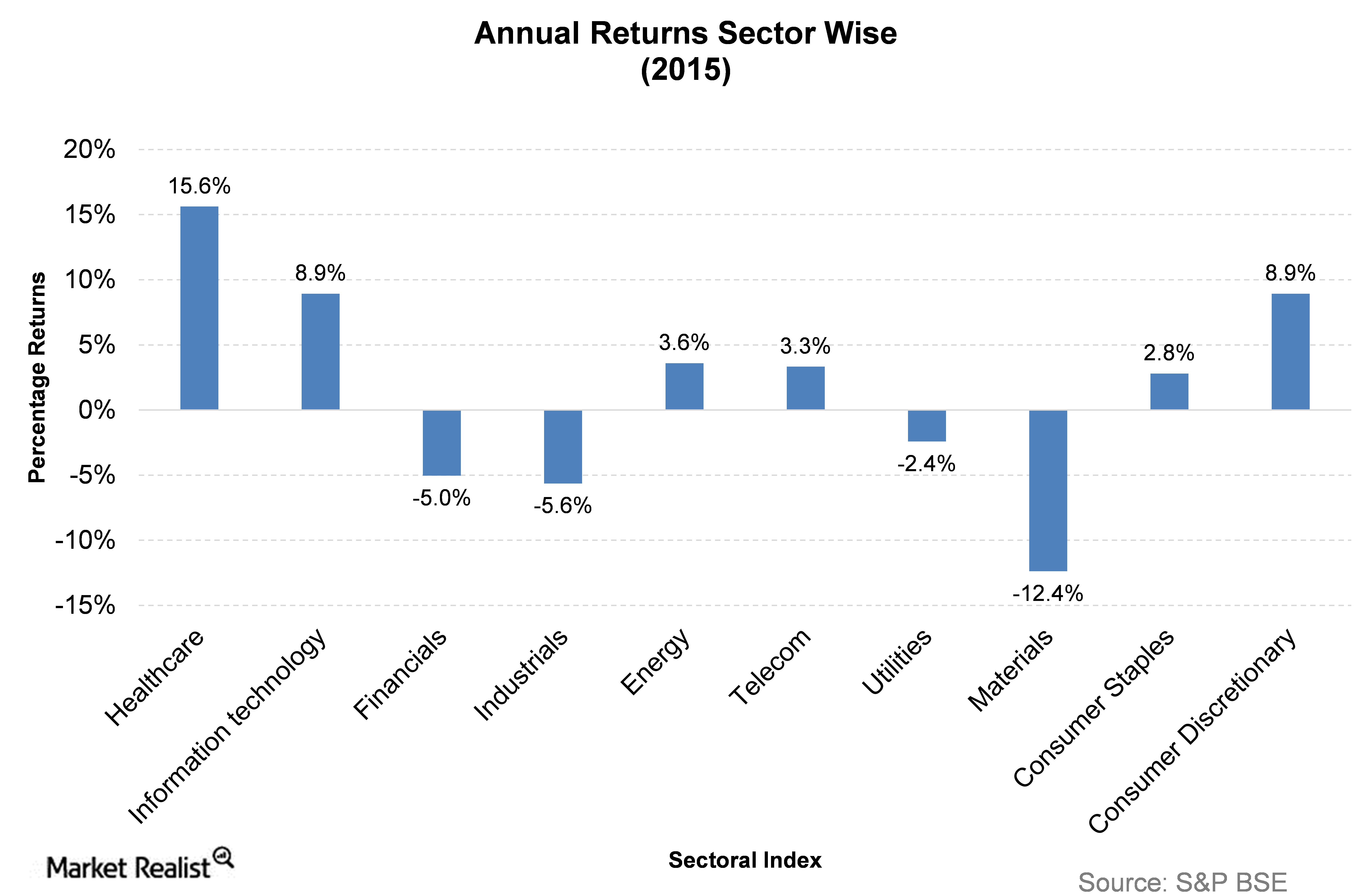 2015's Gainers and Losers of the Indian Stock Markets
Sector-wise analysis
In this article, we will analyze the sector-wise performance of Indian stocks for 2015—a dismal year for all sectors. To get a comparative view of the returns, we are considering the returns of the S&P BSE (Bombay Stock Exchange) sectoral indexes.
The chart below gives the returns for 2015, for all sectors, expressed in Indian rupees.
Article continues below advertisement
Article continues below advertisement
What the affected sector's performance?
By the end of 2015, six out of ten sectoral benchmark indexes gave positive returns. These sectors are healthcare, information technology, energy, consumer staples, consumer discretionary, and telecom. The materials sector had the worst performance and healthcare was the best, returning a superlative 15.6% in the period. However, in November 2015, healthcare was the worst-performing sector, and the S&P BSE Healthcare Index returned -9.9% in that month.
Similarly, information technology, the third-best performing sector this year, was the second-worst performing sector of November 2015. The S&P BSE Information Technology Index returned -2.8% in that month. Many BSE-listed IT and pharma companies have their operations in Chennai, the capital city of Tamil Nadu, which were severely affected by floods in November 2015.
India-focused mutual funds
The ALPS Kotak India Growth Fund (INDAX) returned -17% in 2015. Among the five India-focused mutual funds discussed in Part 1 of this series, INDAX was the worst-performing fund in 2015. ICICI Bank (IBN), Infosys (INFY), HDFC Bank Ltd (HDB), and Tata Motors (TTM) are among the top ten holdings of INDAX's portfolio.
In the next part, we will look at the FPI (foreign portfolio investment) in Indian equities in 2015.