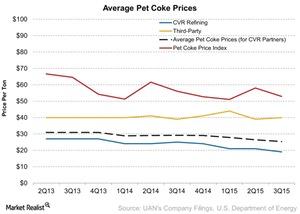 How CVR Partners Benefits from Pet Coke Prices
By Adam Jones

Updated
Prices of input
Unlike CF Industries Holdings (CF), parent of Terra Nitrogen (TNH), and PotashCorp (POT) which use natural gas as a feedstock for the production of nitrogenous fertilizer, CVR Partners (UAN) uses petroleum coke, or pet coke, to produce nitrogen fertilizers. CVR Partners is the only company in North America to use pet coke as feedstock to produce nitrogen fertilizers such as UAN (urea ammonium nitrate) and ammonia. CVR Partners purchases 70% of its pet coke from its affiliate CVR Refining, which is a part of CVR Energy (CVI), and the remaining 30% from third-party suppliers or at spot price. This means that, for the most part, the company has a stable source of supply.
Article continues below advertisement
Petroleum coke prices falling
The company's average price of petroleum coke has been falling over the years. In 3Q15, the company's average price of pet coke from CVR Refining was $19 per ton, compared with $25 per ton in 3Q14. On the other hand, the average pet coke price from third-party suppliers was $40 per ton, slightly above the $39 per ton in the same period of the previous year. Since most of the company's pet coke is coming from CVR Refining, the average price of pet coke was about $25 per ton in 3Q15.
Pet coke prices depend on UAN prices
The company sources 70% of its pet coke requirements from its affiliate CVR Refining (CVI). Pet coke is a by-product of refining crude oil. Because of this arrangement, CVR Partners can source pet coke at a much lower cost, though the prices it pays to CVR Refining are based on the UAN prices CVR Partners receives and the pet coke price index. For pet coke sourced from CVR Refining, prices are based on a floor and a ceiling. According to the latest company filings, for a UAN price, which excludes transportation cost, of $205 per ton, the pet coke price per ton was $25. For every $1 change in the UAN price per ton, pet coke price changes by $0.50 per ton. The price floor is $5, and the ceiling is $40.
You may access agricultural fertilizer companies through the VanEck Vectors Agribusiness ETF (MOO). CF Industries Holdings (CF), The Mosaic Company (MOS), and PotashCorp (POT) form 9.3% of MOO's total portfolio.