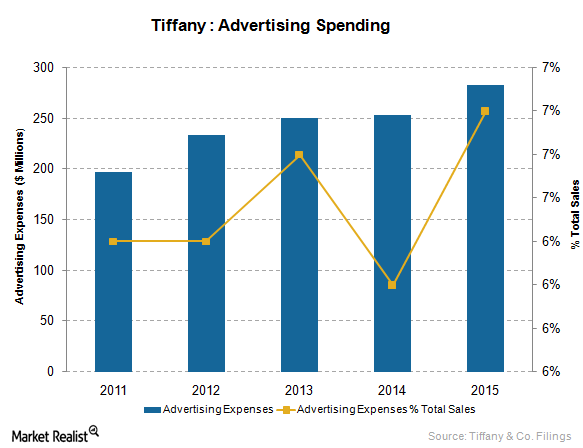 Why Tiffany Is Spending More on Marketing
No price promotions at Tiffany
Tiffany & Co. (TIF), a luxury goods retailer, does not practice price promotional activities. You can find Tiffany's company-operated stores mainly at best high-street and luxury mall locations. To be competitive in the jewelry market (XRT), Tiffany concentrates mainly on the following:
brand reputation for its high-quality products
customer service
distinctive merchandise
Article continues below advertisement
Marketing and advertising
Tiffany is focused on reinforcing its position as a luxury brand. Tiffany supports all its new introductions with broad print and digital advertising. The company uses various channels for advertising: newspapers, magazines, and digital media. It also publishes its well-known Blue Book to advertise its high-end jewelry.
Digital marketing
To cater the growing e-commerce market, Tiffany has been active on social media platforms such as Facebook, Twitter, Pinterest, and Instagram. According to social media management company Expion, based on follower interaction, Tiffany achieved the highest engagement score on Facebook among the top 50 US retail brands in 2013.
To boost its e-commerce platform, Tiffany operates websites in 13 countries and informational websites in several additional countries.
Tiffany is spending more on marketing
Tiffany has been increasing its advertising expenses. In fiscal 2015, ended January 31, 2015, the company spent $284 million on advertising, marketing, and public and media relations. This was equal to 6.7% of the company's total sales.
In fiscal 2015 and fiscal 2014, Tiffany spent $253 million and $250 million on advertising, which equaled 6.3% and 6.7% of its total revenues in the respective years.
By comparison, in fiscal 2015, Signet Jewelers (SIG), reported advertising expenses of $333 million, 5.8% of total company sales, whereas Fossil (FOSL) spent 6.6% of its sales on advertising.
Tiffany, Signet, and Fossil all have exposure in the iShares Russell 1000 Growth ETF (IWF) and the iShares Core S&P 500 ETF (IVV). Together, these companies account for 0.12% of the portfolio holdings of IWF and 0.19% of IVV.
IVV measures the performance of the large-capitalization sector of the US equities market, tracking the top 500 stocks. IWF is a growth-oriented ETF.