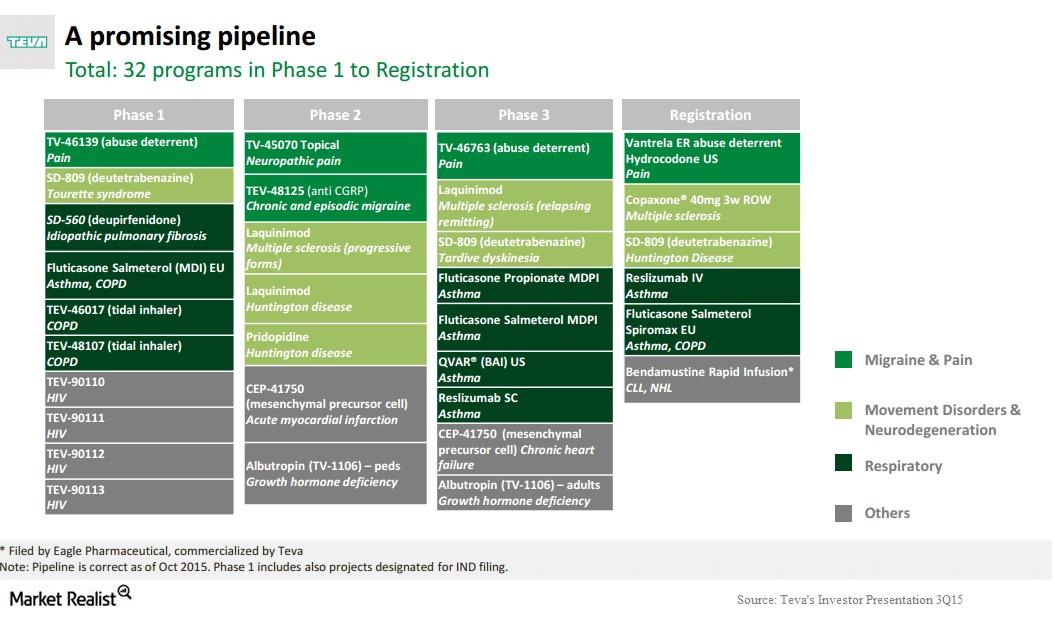 Teva's Respiratory Drugs Contribute 11% to Specialty Medicines
About Teva Pharmaceutical
Teva Pharmaceutical Industries (TEVA) is a world leader in the generic pharmaceuticals industry. The company also deals with innovative pharmaceuticals where the focus areas include the central nervous system and respiratory issues. Nearly 45% of Teva's total revenues come from US markets, while 32% of its revenues come from European markets.
The above chart shows Teva's pipeline, which focuses on the development of respiratory drugs and drugs for other disorders through innovative pharmaceuticals.
Article continues below advertisement
Teva's respiratory drugs franchise  
Teva's respiratory drugs franchise provides solutions for asthma, chronic obstructive pulmonary disease (or COPD), and allergic rhinitis. Respiratory drugs contributed nearly 11% of total revenues for Teva's Specialty Medicines in 2014. A few of the products in Teva's respiratory franchise are DuoResp Spiromax, ProAir, and QVAR.
ProAir is the trade name for albuterol, a short-acting beta-2 agonist, recommended for relieving sudden symptoms of asthma, exercise-induced bronchospasm, and COPD episodes. ProAir is an inhalation powder supplied in inhalers. Some of its competitors include Merck & Co. (MRK), GlaxoSmithKline (GSK), and Sunovion Pharmaceuticals (SEPR).
QVAR is an asthma control inhaler that works as a maintenance drug for asthma. It's used in the ongoing treatment of asthma as a preventative therapy. Some of its competitors include AstraZeneca (AZN), Merck, GlaxoSmithKline, and Sunovion.
DuoResp Spiromax is a dry powder inhaler used for the treatment of asthma and COPD.
Teva has two drugs for its respiratory franchise in the registration process: reslizumab IV (intravenous) and Fluticasone Salmeterol Spiromax EU. There are four drugs in Phase III clinical trials.
Other asthma drugs are GlaxoSmithKline's (GSK) Advair Diskus, Merck and Co.'s (MRK) Singulair, AstraZeneca's (AZN) Symbicort, and Teva's ProAir series. If you don't want the risk of investing in one company, you can consider the PowerShares International Dividend Achievers ETF (PID) or the VanEck Vectors Pharmaceutical ETF (PPH), which invest in Teva.