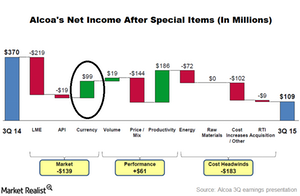 What Would a Stronger US Dollar Mean for Alcoa?
A stronger US dollar and Alcoa
One possible repercussion of the Fed's rate hike could be the further appreciation of the US dollar. Commodities in general have a negative correlation with the dollar. However, there are several moving parts in Alcoa's relationship with the US dollar. In this part of the series, we'll explore how Alcoa (AA) could be impacted if the US dollar were to appreciate.
Article continues below advertisement
Article continues below advertisement
Net positive
On a consolidated basis, a stronger US dollar bodes well for Alcoa. Favorable currency movements had a positive impact on Alcoa to the tune of $99 million in 3Q15, as you can see in the above graph.
It's worth noting that although Alcoa gets more than half of its revenues from US markets, most of its production facilities are located outside the United States. The company thus benefits when the US dollar appreciates. In contrast, companies such as Ford (F) and General Motors (GM) are negatively hit by the US dollar's appreciation.
Impact on various segments
Next year, Alcoa will split into two companies—the upstream company and the downstream or value-add company. Alcoa's value-add company will be negatively impacted by the strength of the dollar. It gets a major portion of its revenues from Europe and is thus negatively impacted by a stronger US dollar.
However, Alcoa's upstream business is positively impacted by the rising US dollar. Most of the aluminum that Alcoa sells in the United States is produced outside the country. Apparently, Alcoa is in the process of further curtailing operations at its US smelters. A rising US dollar (UUP) has negatively impacted US-based smelters.
Rio Tinto (RIO) has most of its smelters outside the United States (SPY). In its 3Q15 earnings conference call, the company maintained its 2015 aluminum production guidance at 3.3 million metric tons. Norsk Hydro (NHYDY) has most of its plants in Norway and Germany.
In the next part, we'll explore how a stronger US dollar could impact aluminum prices.