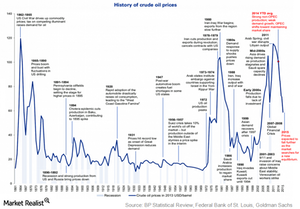 Why Roller Coaster Crude Oil Prices Are Nothing New
By Gordon Kristopher

Dec. 28 2015, Updated 2:38 p.m. ET
Crude oil market 
The roller coaster ride of crude oil prices is not new, as you can see from the chart below. Crude oil prices like any other commodity are subject to changes based on the supply and demand dynamics. This simply means a rise in supply compared to demand will lead to a fall in prices and vice versa. While the oil industry became much more important after the invention of the internal combustion engine, the oldest oil well was found in China in 347 AD.
Article continues below advertisement
Modern crude oil market 
The modern crude oil market began in the 19th century. Oil production began in Imperial Russia in 1825, followed by commercial crude oil production in Canada in 1858. Modern oil production started in West Virginia and Pennsylvania in the US in the 1850s. The refining of crude oil also started in the 1850s.
Oldest oil companies
The oldest oil companies include the Texas Company, which operated in the brackish coastal areas of the Gulf of Mexico early in the 1930s. The Pure Oil Company, which is now part of Chevron (CVX), and Superior Oil Company, which is part of ExxonMobil (XOM), were the oil drillers during 1937. Likewise, many oil companies like Kerr-McGee Oil Industries are part of Anadarko Petroleum (APC). Phillips Petroleum is now part of ConocoPhillips (COP). After the Second World War, OPEC came into prominence.
Crude oil prices 
In the 20th century, US crude oil prices were regulated through production or price ceiling. Thus, US oil prices after World War II at the wellhead averaged $28.52 per barrel adjusted for inflation to 2010 dollars. However, with the absence of a price ceiling, US prices mirrored the world average price at $30.54 per barrel.
In 2000, OPEC adopted the $22-$28 price band for the OPEC basket of crude oil. Real oil prices only exceeded $30 per barrel during geopolitical tensions or conflict in the Middle East. However, OPEC abolished its price band in 2005 due to limited production capacity.
The history of the oil market suggests that oil prices were regulated by production and price ceilings from the US to OPEC. However, the current oil market crash is quite different, as we'll see from our analysis of the four major oil crashes in the next part of the series.
ETFs such as the iShares US Oil Equipment & Services ETF (IEZ), the Vanguard Energy ETF (VDE), and the First Trust Energy AlphaDEX ETF (FXN) are also driven by uncertainty in the oil market.