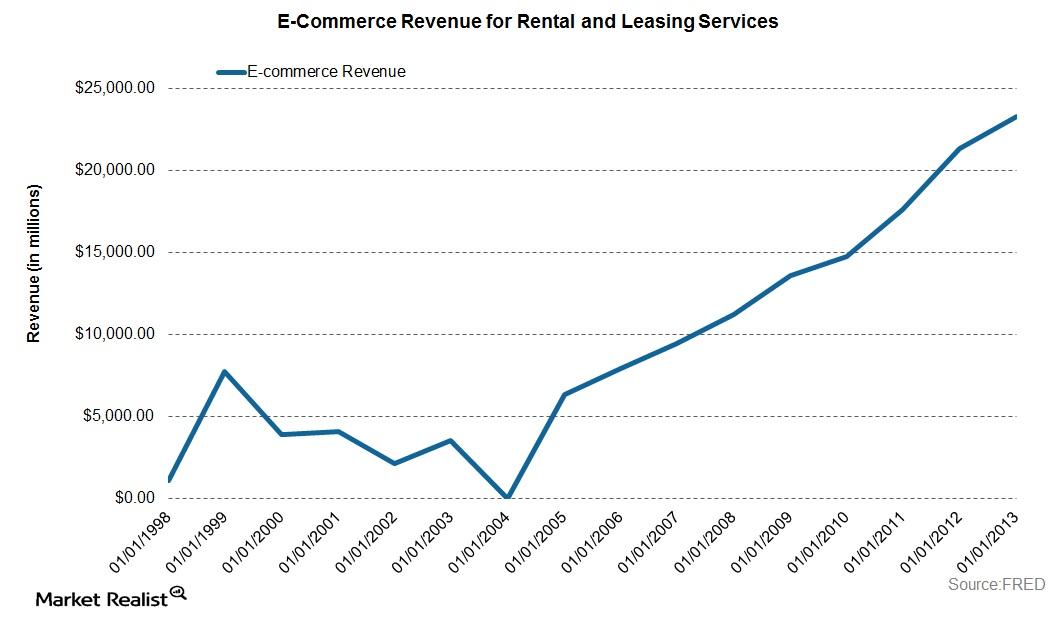 The Outlook for Industrial REITs
Industrial property
Due to their speculative nature, industrial REITs need to be highly confident about the demand for the products they are offering. Growing global consumption can benefit industrial properties. The process of bringing a finished product to consumers requires warehouse space for manufacturing, storage, wholesale activities, logistics, and retail inventories.
Article continues below advertisement
Role of e-commerce
E-commerce played a significant part in creating demand for warehouse facilities. Online retailers like Amazon (AMZN), Alibaba Group Holding Ltd. (BABA), and eBay (EBAY) made industrial REITs the direct beneficiaries of the increase in online sales. The graph above shows the e-commerce revenue for rental and leasing services.
E-commerce needs to maintain inventory to have the ability to ship the product to the consumer on a timely basis. Typical of e-commerce premium services, Amazon Prime allows the product to be shipped within two days or less, which has dramatically increased the space required by Amazon to keep its inventory in stock. The growing market demand of online purchases can be a prime contribution to the industrial REITs market.
Conclusion
Industrial REITs are expected to pick up steam as the US economic outlook gradually improves—demand for industrial properties is tied to overall economic growth. Projected GDP growth, combined with steady consumer spending, could provide strong fundamentals for industrial REITs in the coming years.
Looking beyond the United States, industrial property demand is expected to grow globally. With emerging markets like India and Brazil shifting their focus to domestic consumption, the emergence of e-commerce companies can play a significant role in the demand for warehouses and self-storage facilities.
Industrial REIT ETFs like the Vanguard REIT ETF (VNQ) and the iShares Cohen & Steers REIT ETF (ICF)—along with industrial REITs like Prologis Inc. (PLD), DCT Industrial Trust Inc. (DCT), and East Group Properties Inc. (EGP)—may benefit from growing economic stability and inflation expectations.