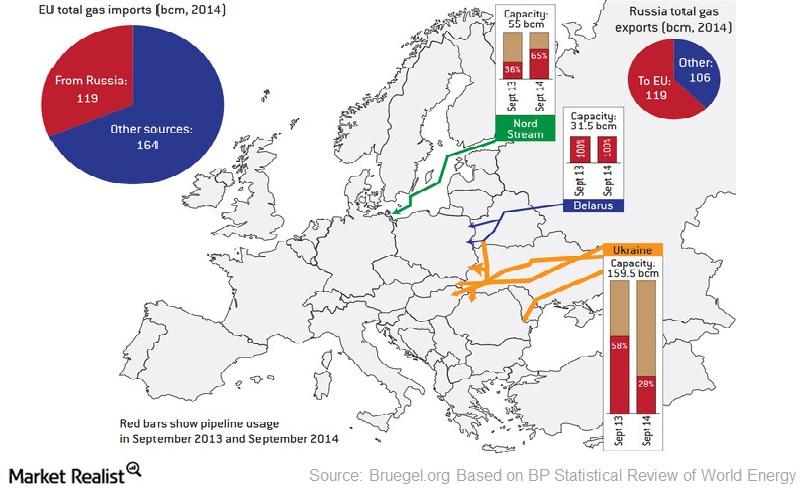 Nord Stream Pipeline: A Russian Gas Pipeline to Europe
By Rabindra Samanta

Dec. 16 2015, Updated 8:06 a.m. ET
Europe's gas imports from Russia
The EU (European Union) (FEZ) mainly depends on imports to meet its need for gas. Europe imports a significant amount of gas from Russia. In recent years, Russia's (RSX) heightening tensions with Ukraine made the gas supplies to Europe volatile.
The above map shows the gas pipelines from Russia to Europe. There are three major gas pipelines—the Nord Stream through the Baltic Sea and two others that pass through Belarus and Ukraine.
The pipeline that goes through Ukraine has a capacity of 159.5 billion cubic meters. In 2014, the operation statistics for that pipeline showed that its load fell by 50% compared to 2013. That could be due to geopolitical issues and pricing disagreements that developed between Ukraine and Russia.
Article continues below advertisement
The Nord Stream pipeline supplies gas directly to Germany through the Baltic Sea. The pipeline's load rose significantly while the load on the pipeline through Ukraine fell. Germany is among Russia's top trading nations along with China (FXI). Most of Germany's (EWG) energy requirements are met by Russian exports.
The pipeline that passes through Belarus connects to Poland. In 2014, Poland consumed 16.3 billion cubic meters of natural gas. The pipeline operated with a capacity of 31.5 billion cubic meters. It was 100% operational in 2014.
Russia's strategy to increase the supply 
Recently, Gazprom PAO (OGZPY) stated that it would increase the supply through the Nord Stream pipeline by increasing the pipeline's capacity through the Baltic Sea. This also limits the volatility in the supply due to geopolitical tensions. The geography is surrounded by countries that are neutral to Russia's diplomacy.
On a YTD (year-to-date) basis, Gazprom fell by 18%. Other Russian companies like Lukoil (LUKOY) fell by 10.4%. However, Tatneft (OAOFY) rose by 5.3% on a YTD basis on December 14.
In the next part of the series, we'll analyze NATO's diplomacy in southwestern Europe. We'll discuss its connection with the Russian gas market in Europe.