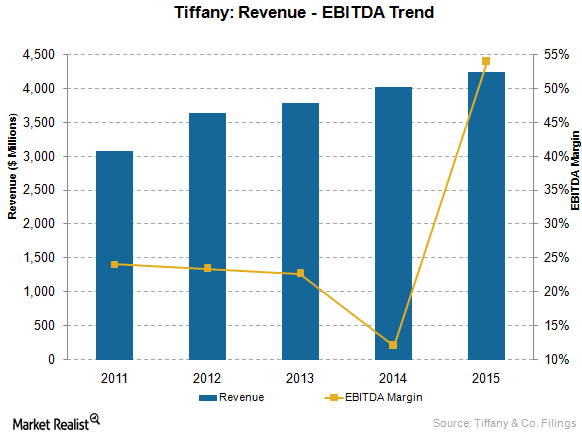 A Must-Know Business Overview of Tiffany & Co.
An introduction to Tiffany & Co.
Incorporated in 1868, Tiffany & Co. (TIF) is a holding company that operates through its subsidiary companies. The company's primary subsidiary is Tiffany & Company, a jeweler and specialty retailer whose principal merchandise offering is jewelry. Jewelry represented 92%, 92%, and 90% of the company's total revenue in fiscal 2013, 2014, and 2015, respectively.
The company also sells timepieces, leather goods, sterling silverware, china, crystal, stationery, fragrances, and accessories. Through its subsidiaries, the company is engaged in product design, manufacturing, and retailing activities.
Tiffany & Co. has a presence in the Americas, the Asia-Pacific region, Japan, Europe, and other emerging markets of the United Arab Emirates, Russia, and the Middle East. The company went public in 1987.
Article continues below advertisement
Financial performance
For fiscal 2015 ended January 31, 2015, Tiffany saw revenues of $4.2 billion and an EBITDA (earnings before interest, tax, depreciation, and amortization) margin of 25.5%. Over the last five years, Tiffany has achieved a CAGR (compounded annual growth rate) of 9.4% in sales and 13.4% in EBITDA.
Stock price performance
As of December 8, 2015, Tiffany's stock had a market capitalization of approximately $9.8 billion and a price of $76.11. In 2015, Tiffany's stock price fell 29.4%, with a total loss on investment of 26.9%.
The company is a component of the SPDR S&P 500 ETF (SPY) and has exposure in the SPDR S&P Retail ETF (XRT). Tiffany has a weight of 0.05% in SPY and 0.97% in XRT. Specialty retail companies make up 18.1% of XRT.
In this series, we'll analyze Tiffany & Co.'s business fundamentals and investment valuation, comparing its performance to other giants in the industry, including Signet Jewelers (SIG) and Fossil (FOSL).
For more information on Signet Jewelers, you can read An Overview of Signet Jewelers, a Jewelry Giant.