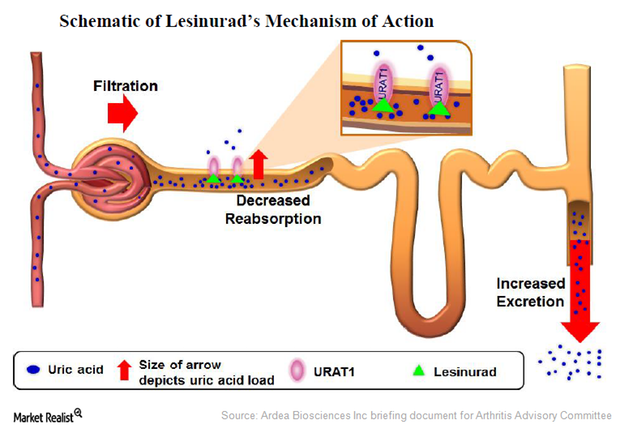 Lesinurad: A Selective Uric Acid Reabsorption Inhibitor for Gout
Treatment for gout
AstraZeneca's (AZN) new drug lenisurad is an innovative selective uric acid reabsorption inhibitor (or SURI) therapy for the treatment of gout. According to Ardea Biosciences, a member of AstraZeneca Group, "Gout is a serious, chronic, and debilitating disease and is the most common type of inflammatory arthritis, more common than rheumatoid arthritis, psoriatic arthritis, and ankylosing spondylitis combined."
Article continues below advertisement
Article continues below advertisement
Ardea Biosciences further explains the relationship between gout and serum uric acid (or sUA). "The underlying cause of gout is hyperuricemia, which is typically defined as sUA greater than 6.8 mg/dL based on the solubility limit of uric acid in vitro. When sUA exceeds the solubility limit, urate crystals form and deposit in body tissues. When these crystals form in and around joints, they can manifest clinically as recurrent attacks of painful inflammatory arthritis (ie, gout flares). Eventually chronic, progressive arthropathy, including bone erosions, can occur. When uric acid crystals form in the subcutaneous tissues they manifest as tophi, which can become disfiguring, painful, and infected."
Lesinurad
Lesinurad, originally developed by Ardea Biosciences, was acquired by AstraZeneca through the acquisition of Ardea in June 2012. In addition to lesinurad, Ardea Biosciences has another gout therapy called RDEA3170, a selective uric acid reabsorption inhibitor that is currently in Phase IIb clinical trials.
The above diagram explains how lesinurad works to reduce the uric acid levels in gout patients. To treat gout patients, drugs attempt to reduce the sUA levels so new crystals do not form and existing ones dissolve. According to the American College of Rheumatology (or ACR) and the European Union League Against Rheumatism (or EULAR), sUA levels should be lower than 6 mg per deciliter for all gout patients and less than 5 mg per deciliter for all patients with severe gout.
There are four urate-lowering therapies (or ULTs) in the United States, further categorized as xanthine oxidase inhibitors (or XOI), probenecids, and pegloticase drugs. While XOIs reduce the production of uric acid, probenecids increase excretion of uric acid from the body. Pegloticase drugs degrade the excess uric acid that is circulating in the body.
Ardea Biosciences explains the functioning of lesinurad. "Lesinurad is a selective uric acid reabsorption inhibitor (SURI) that inhibits the uric acid transporter URAT1 in the kidney. URAT1 is responsible for reabsorbing the majority of filtered uric acid from the renal tubular lumen."
As URAT1 is inhibited, a greater level of uric acid is excreted from the body, resulting in low sUA levels. When combined with XOIs, the therapy results in both reducing production of uric acid and increasing uric acid excretion, which helps maintain low sUA levels.
Currently, XOIs such as allopurinol and febuxostat are used as a first-line therapy for gout. However, about 40%–70% of patients don't respond sufficiently to the therapy, while 50%–80% of patients don't sustain lower sUA levels.
So if approved, lesinurad should manage to capture a substantial market share of gout patients. Peers Regeneron (REGN), Novartis (NVS), and Celgene (CELG) are also developing drugs to treat gout that may prove more effective than existing therapies.
Investors can participate in the upside potential of lesinurad yet avoid excessive company-specific risks by investing in the First Trust Value Line Dividend ETF (FVD). AstraZeneca accounts for 0.53% of FVD's total holdings.