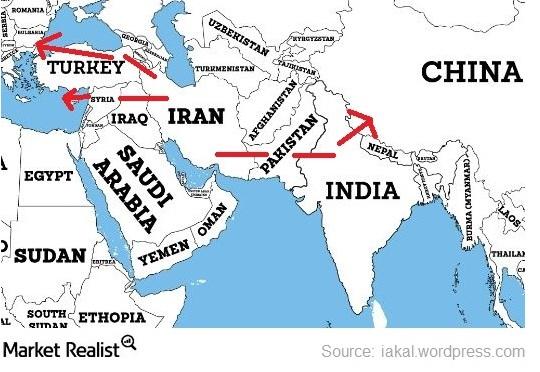 Could Iran Become a Big Gas Supplier to Europe and Asia?
Could Iran become a big gas supplier?
Geographically, Iran is between Europe and Asia's gas markets. Iran could be a potential supplier to China (FXI) through Pakistan and India (INDY). Europe and Asia both consume significant portions of the world's natural gas production. Asia has the largest number of emerging economies. Its demand could grow in the future. The EU (European Union) could plan to include Iran as its strategic partner for the natural gas supply. Iran's proved natural gas reserve could support the EU's demand for more than 60 years. Iran accounts for the highest proved natural gas reserves in the world.
Article continues below advertisement
Recently, Iran's oil minister announced a new model of contracts for foreign oil and gas companies during the two-day conference in Tehran. European companies like Royal Dutch Shell (RDS.A) and Total (TOT) are gearing up for the contract. The investments will also attract companies from Pakistan and India (INDY). Russian companies like Lukoil (LUKOY) are also looking to invest in the contract.
Purposed pipeline
The Persian pipeline could end Europe's dependence on Russian gas supplies. The pipeline will run from Iran to Turkey. Then, it will run from the southern European countries like Germany and France through either the Western Balkan states or Romania and Serbia. The pipeline to Pakistan is under production. Experts think that New Delhi is also preparing for possible trade benefits with Iran. The TAPI (Turkmenistan, Afghanistan, Pakistan, and India) pipeline's future is also in question. However, the stone was laid down on December 14. Experts think that cheaper Iranian gas will flood the market.
In the next part of the series, we'll analyze how Russia and Saudi Arabia's differences regarding Syria are hurting Russia's crude exports.