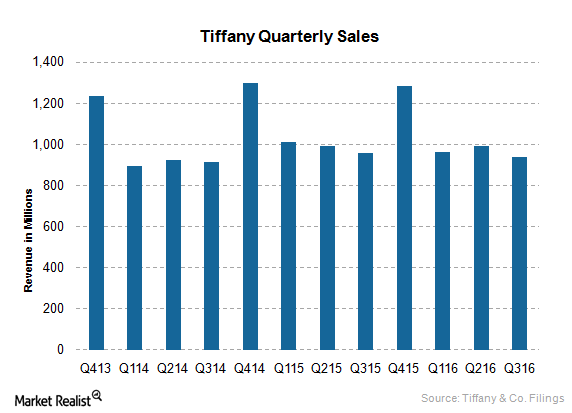 Hurdles in Tiffany's Growth: Weaknesses and Threats
Expensive products
Since it's a luxury brand, Tiffany & Co.'s (TIF) products are priced high, with no pricing promotions. Thus, Tiffany products may be out of reach for many customers.
Article continues below advertisement
Seasonality
Jewelry companies (XRT) face seasonality in their sales, with most sales happening during the holiday season in November and December. Tiffany generates one-third of its annual revenue from the December quarter. Signet Jewelers (SIG) generates approximately 40% of its annual sales from the December quarter.
Fossil (FOSL) also witnesses seasonality in its business. A weak showing in the holiday season may considerably impact these companies' annual sales.
Limited geographic expansion
Net sales for Tiffany rose 5.4% in fiscal 2014. However, only 6% of growth came from the Americas, while the highest growth of 10% came from the Asia-Pacific region on a constant-exchange-rate basis.
52% of Tiffany's sales come from regions other than the Americas. In 2014, the company opened only one store in the Asia-Pacific region as opposed to three stores in the Americas. The Americas have the highest number of retail stores, with 122 out 295 total stores.
Though the US ranks first in demand for diamond jewelry, China and India are the two fastest-growing jewelry markets in the world. Tiffany is focused on further growth in the Asia-Pacific region. Currently, it has only 26 stores in China and no presence in India.
No credit facility
In-house credit facility represents 35%–50% of total jewelry sales. Tiffany and its peer Fossil (FOSL) don't offer credit facility to their customers, unlike Signet Jewelers (SIG), where credit sales account for 41.9% of Signet's total sales.
Combined, Tiffany & Co. and Signet constitute 0.11% of the SPDR S&P 500 ETF (SPY).
Visit Market Realist for more on Specialty Retail and Overview of Signet Jewelers.